Adding a 4th axis to your arsenal of accessories might seem intimidating, but it can add a whole new perspective to your CNC machining. The extra axis does more than just give you an extra degree of freedom while cutting, it can help you save time and money on your machine.
Fewer Setups
Occasionally, we all come across parts that would be best suited to be cut using a 4th axis. There are some geometries that just can't be practically done any other way. Machining a spiral column or complex curve, for example, can be done with three axes, but it just doesn't make sense. This is an obvious entry point to adding a 4th axis like our microARC 4 to your machine.
But, even if you can cut your parts with three axes, using a 4th axis can save you from having multiple setups and workholding changes. With more complex parts, you could have four, five, or even six different setups, depending on the geometries of your part - sometimes even more! Adding a 4th axis can provide you access to multiple sides of the part in a single setup, new ways to access the same parts, and provide you the freedom to use fewer setups.
Fewer setups means less time loading parts, fewer opportunities to misload a part and more time making chips. Fewer setups helps you make better parts faster, by reducing the amount of time you spend loading the machine, reducing the chance of misloading parts on subsequent operations, and keeping the machine making chips for as long as possible before needing your attention.
Efficient Workholding Options
While holding a part and rotating it with a 4th axis can help alleviate the need for so many setups on complicated parts, using a 4th axis in conjunction with a pallet system can make cutting 3-axis parts more efficient.
In fact, adding efficiency to your current setups is one of the more valuable, yet under-utilized, parts of adding a 4th axis.
Combining the microARC 4 with a tombstone or trunnion means that you can have more parts running on the machine at a time in addition to having access to multiple sides of those parts. With some clever thought you can set up your pallets to hold your parts in a way that you can pull off finished parts with every cycle.
Using the microARC in a Shop
John Block uses his 1100MX to do prototyping and small-run production in a variety of industries, but as a retiree from the professional auto racing industry, lots of his work is in that space.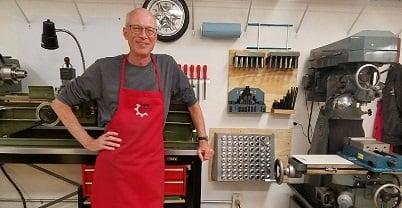 Block uses a microARC and a trunnion table to create more parts with fewer setups and better repeatability. "For example a part that would have taken four setups can now be done in two setups," he explains. "Also, splined shafts are something now achievable with the microARC, adding to my shop's capabilities."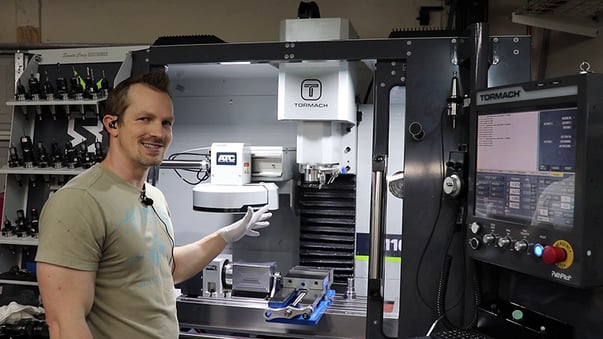 Another Tormach owner uses his microARC for both efficiency and capability, as well. Jayson Van Camp is the owner of VC Edge, a company that makes a variety of interesting things, but focuses on knives. He explains, " I generally make high end ultralight pocket knives. When I say ultralight, I mean typically less than half the weight of a similar sized knife. My knife called the "Interface" and weighs a mere 1.7oz while sporting a large 3.6-inch blade."
Van Camp was looking at Tormach mills for a while before he made the decision to buy a machine. He chose the 1100MX because it fit the footprint in his garage shop and was able to use normal 240V single phase power. He is especially fond of the 10k RPM BT-30 spindle because the high spindle speed allows him to be efficient with the small tooling (some under 0.020" in diameter) required to make his knives.
He explains, "I'm currently using the microARC 4th axis as a positioner for palletized setups on a tombstone. This allows me to get a lot more parts done in a single run and let it go on machining unattended for longer. Otherwise, with short cycle times when running single parts and operations, I would have to babysit the machine to keep it running all day, so this really frees me up to work on other tasks.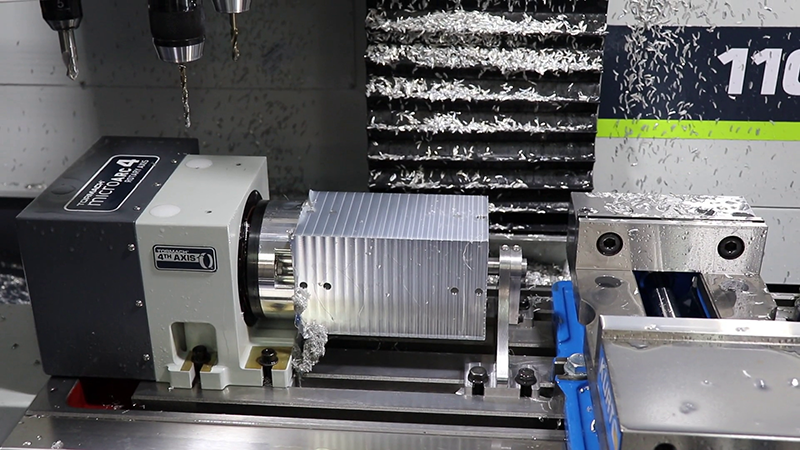 What's more, Van Camp also uses his microARC 4 to do complex machining with small ball end mills on the outside contours of his knives. "I can use the microARC to tilt the pallet for the contouring then reliably move back to flat when the next operation requires it." Thanks to very low backlash of the microARC 4, Van Camp has the ability to rotate the parts off of horizontal, which allows him to do the machining with the side of a ball end mill. Using a ball end mill this way has enabled him to get the best finishes possible and keep his tools lasting much longer than ever before.
That means that he's not only cutting parts that would be much harder to cut without a 4th axis, but he's also being more efficient and saving money on tooling.
Adding accessories is often relegated to when you need to cut something specific or add an extra layer of efficiency to your shop, but sometimes, an accessory is just a smart addition, regardless of what you're cutting.
While a 4th axis might seem like an accessory that you should just pick up only "when needed," maybe we can all look at our current setups with a new perspective and find some additional capacity and cost savings with a microARC 4.