Tormach machines have been used in countless small businesses. We've seen tons of customers start up machine shop businesses in their garage or basement (or anywhere there is free space to fit a PCNC 440). But sometimes a Tormach mill is the perfect fit for unique, niche businesses.
Ben Dombey operates a glassblowing studio, Glassblower Ben, where he makes custom barware and glass art for a variety of clients.
"I started blowing glass when I was 17, when I was still a senior in high school, and I was just immediately fascinated," he explained. Dombey received a BFA from Tulane University in 2008 and an MFA from RIT (Rochester Institute of Technology) in 2012. After returning to New Orleans following his MFA, Ben began making fleur de lis pendants and demand from customers inspired Ben to break ground on his very own Glass Studio. Construction started in 2015 and was completed in 2017. The studio celebrated its 5th birthday this past April with a big party and invited the community to come experience molten glass hands-on.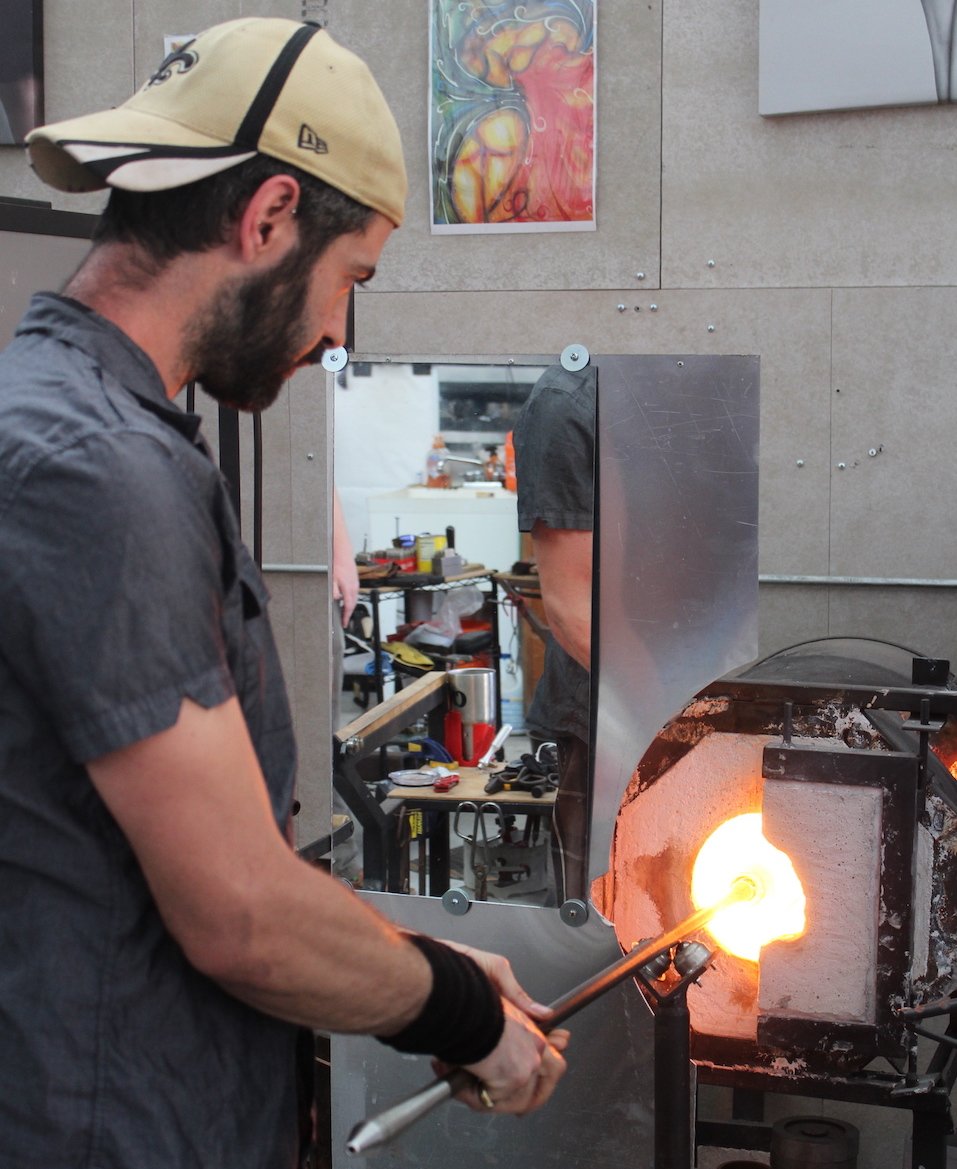 Adding CNC to Old Craftsmen Techniques
Glassblowing was invented by craftsmen sometime in the 1st century BC. Dombey said, "Glass has been around for thousands of years, so incorporating this modern technology with a relatively unchanged craft is awesome!"
At one point while building his glass blowing business, he realized that there was an opportunity to add some unique customization to glassware. Dombey realized that he could stamp patterns and even logos into the thick-bottom glasses that he was making.
"I started getting into the stamping stuff on the bottoms of the glasses, and I was outsourcing it. I had tried a few different companies that I found online to do the stamps for me. But you know, it was expensive and it was like a month turnaround time. If I wanted the stamp faster, it was a lot more expensive."
That's why in 2016, he bought a PCNC 770 and started making aluminum stamps in house. "I cut mostly aluminum pucks using the Tormach, and I stamp different imagery, logos, text, and all sorts of patterns into the bottoms of my glasses."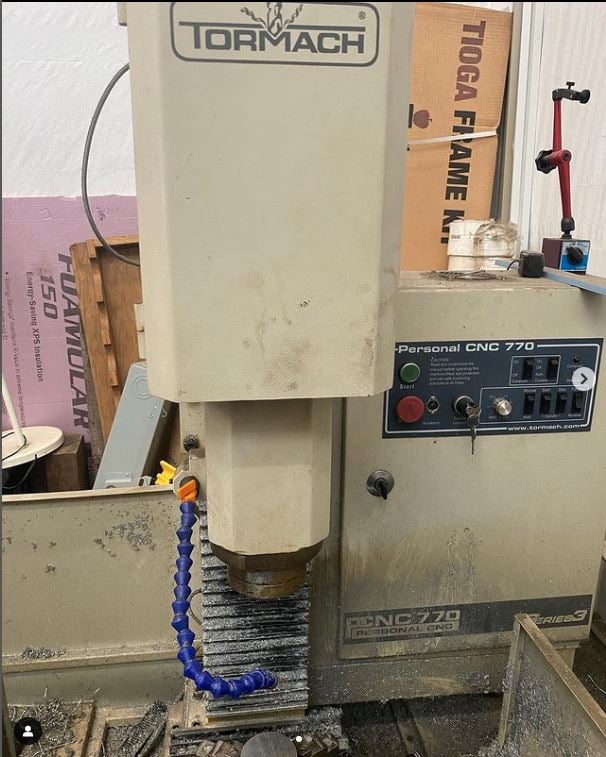 Dombey's wife and business partner, Allyson Mackay, with experience as a programmer and developer, is an integral part of his process. Allyson joined the business in January of 2022 and quickly skilled up in 3D modeling to bring the stamp design in-house. This greatly enhanced the feedback loops and increased the detail they were able to produce in the glass.
Dombey recalled when he had a customer send a picture of their dog to his studio. "My wife does the CAD, so she extruded the file, I let the machine run overnight to cut the stamp, and the next morning it was ready to go. I stamped a little sample glob of glass with the aluminum puck we had just milled, and there's this lady's dog in the glass. It's just amazing to be able to do all that in house."
With years of working with glass, Dombey has found material science to be essential for not only making glass, but also creating the design of the stamps on his Tormach. Working in conjunction with his wife, they find the best shape and finish to create detailed impressions in the glass.
"Through years of experimentation, we've cut and recut stamps to make sure we get the best imprint on the glass. I've learned a lot about the best angles to take, the best cutters to use, the best heights for stamping… being able to have great support from the Tormach team and a dependable machine right next to my furnace with molten glass has enabled us to push the limits of these stamps."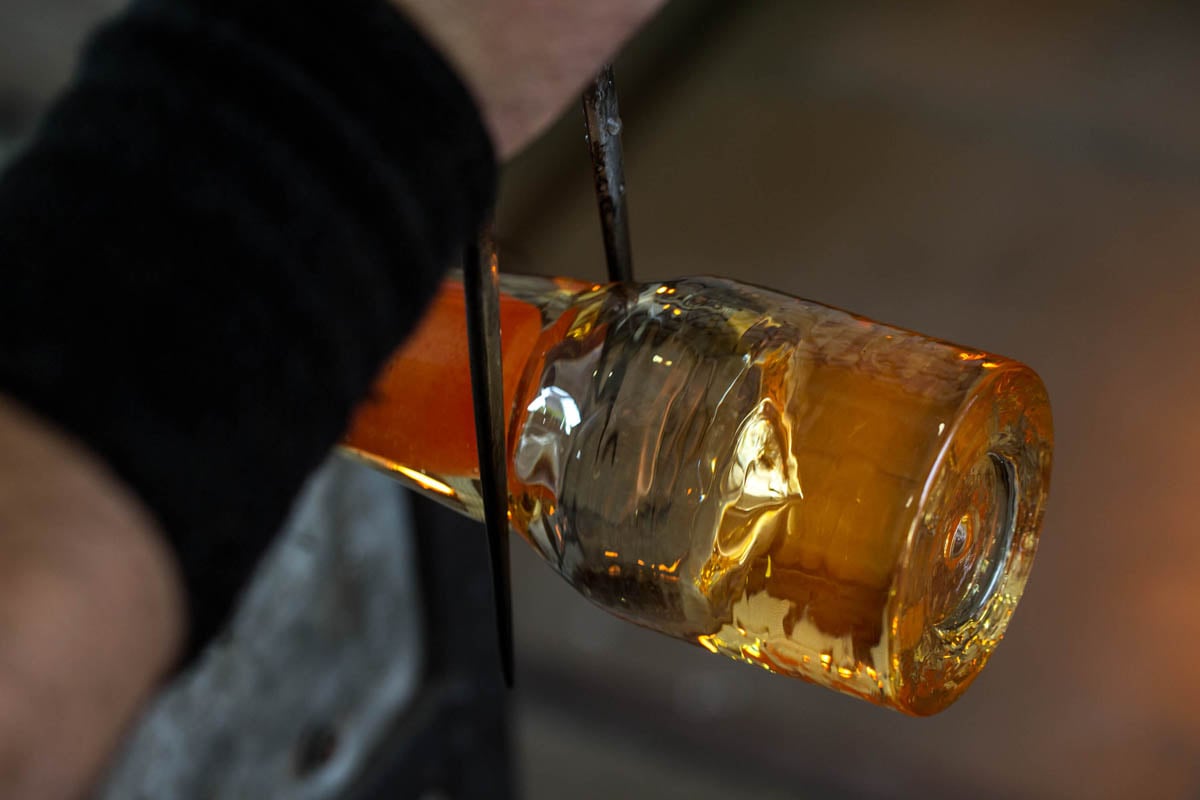 No Experience Necessary
Dombey explained that he's not a machinist. In fact, welding goes more hand-in-hand with glassblowing than CNC does. "I had no machining background at all. I had a few friends help me out, but I had no 3D drawing experience of any kind. But my wife figured it out."
That's why Dombey's wife does the extruding and software work, and he gets the machine set up for making the aluminum stamps.
He wanted to focus on the art of glassblowing, and didn't want to be a machinist. Adding a PCNC 770 to his shop gave him the opportunity to take advantages of CNC without having to become a full-time machinist to pay for it. "It's real nice to have a sort of little fabrication corner with CNC in my shop. There are so many other opportunities for us to use the CNC to create more than just stamps. We have explored the CNC for mold making for stemless wine glasses, relief cutouts for layering glass sculpture, and even cutting graphite for working with the molten glass."
At one point, Dombey was moving the Glassblower Ben studio, so they rented a large forklift to move his new glassblowing furnace and other equipment, including the PCNC 770.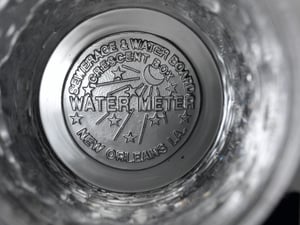 "The furnace is about three tons, so I had to get a pretty big forklift. It had started raining and I'd been working all day, so we were a little faster than we should have been. We dropped the 770… it fell off the forklift."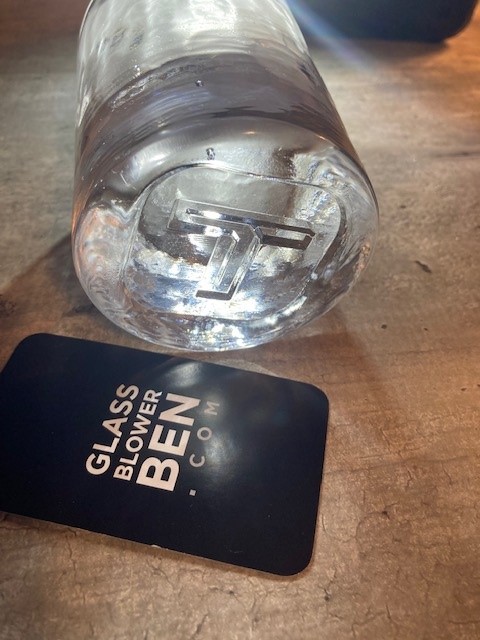 After inspection, Dombey got the machine back on the forklift and finished the moving process. "And it was fine! The 770 was basically unphased. Honestly, props to Tormach for making a real solid machine, because it held up through that, no problem."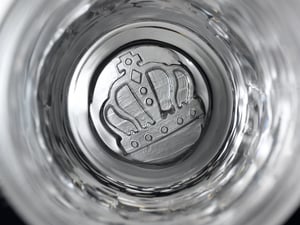 As Dombey looks to the future, he's hoping to build his business by creating experiences for people to try their hand at glassblowing. "I want to give people a chance to get their hands on glass and, you know, cut it and pull it and poke it and see what it does, because it's a crazy material." This is just one area of business expansion for Glassblower Ben. The other is to invest in the R&D to bring new innovative glass products to market. They will all very much benefit from advanced manufacturing technologies and an artist's ingenuity.
Be sure to follow Glassblower Ben on Instagram as he keeps making beautiful glass and uses his PCNC 770 to make custom stamps.