Educating future generations in the world of manufacturing is essential. As we've seen skill gaps widen and supply chains stumble, the ability to make things and a need for those who do the making is more apparent than ever. Educators like Matt Schultz have been working to teach kids the essential technical skills so they can go into the working world or have a better grasp on design/invention needs of the future.
Schultz is a technology instructor at The Lincoln Academy in Beloit, WI, a K-12 charter school that aims to provide college and career pathways via their three pillars; rigorous academics, character development, and career exploration.
He explains, "There are over 30 exploratory class options and different subject matters that the scholars - that's what we call our students - get to take over the span from sixth grade to eighth grade. They get to hone in on subject areas, content, and possible careers in which they're interested."
Through his programs at The Lincoln Academy, Schultz teaches everything from construction and welding to robotics and CNC. "My subject load is much more versatile than it was at my past teaching positions, and that gives scholars experience in all these different career fields," he says.
He provided an example of one of the multidisciplinary projects, "My freshman programming class built automated mini greenhouses. We used a micro controller and an array of different sensors, as well as actuating relays to turn on the motors, fans, voltage step ups and step downs. But, then we were also making the parts for the structure - like when we made metal frames to hold the Plexiglas."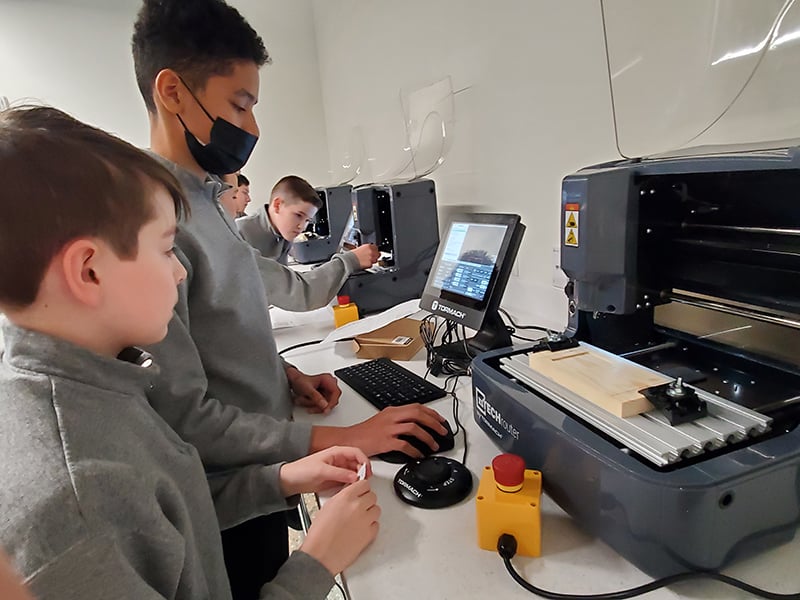 Using Tormach Machines for Education
While Schultz is putting in major effort to create multidisciplinary technical education, he has used Tormach machines to teach in the past, and CNC is part of the program that he's helping to build at The Lincoln Academy.
Using eight xsTECH desktop router-mills and an 1100MX mill, he's giving his scholars hands-on experience with both programming and machining, and plans to develop some robotic integration and work cell curriculum as the program develops.
Schultz explains, "I taught a middle school exploratory for CNC with sixth, seventh, and eighth graders for 45 minutes a day for a quarter. We worked through the NC3 curriculum that I had developed previously, which covers everything in PathPilot, writing G-code, and speeds and feeds calculations. When I started working through it with these scholars, I quickly realized they weren't interested in speeds and feeds. It wasn't resonating… wasn't sticking."
He found that the scholars gravitated toward CAD before the intricacies of machining. They understood the logic, but the application and use wasn't sticking - until Schultz started using the manual override to bump up the RPMs. Then the scholars began to grasp the feel and sound of how feeds and speeds really can change your cutting.
"It was a big success using all the xsTECH machines because I had so many machines and they were all able to dig into it. Between using Aspire for CAD and the time on the machines, it was like a perfect blend… everybody was always doing something and they were all excited. And of course, I would have the 1100MX on in the background making a part, so they were all interested in that too. The number of sign-ups for my CNC course for next year are through the roof after those kids were able to see what we could do."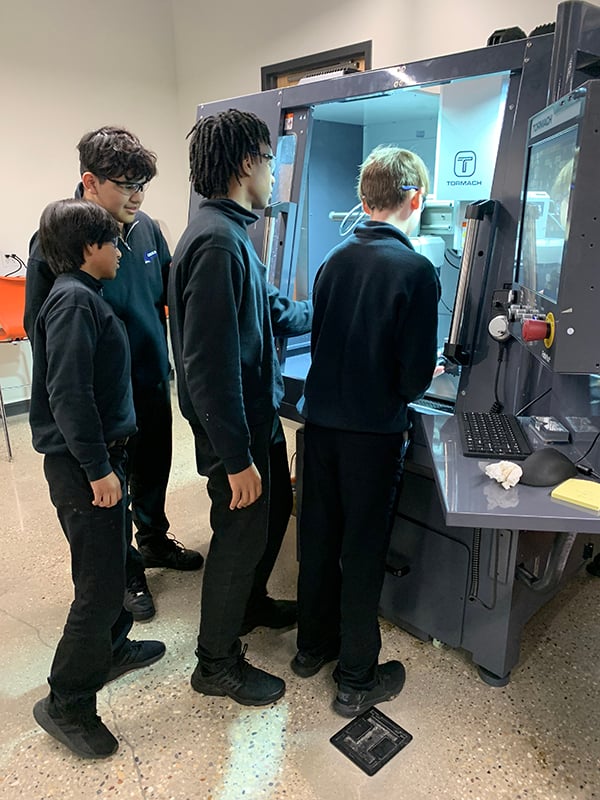 With his ninth grade class, Schultz uses both the xsTECH machines, as well as the 1100MX, to progress through his NC3 curriculum and the Titans of CNC Academy program. He also works through some conversational programming, but the program is still fairly new and he plans to continue its development.
"Really, our space doesn't allow for a huge amount of equipment, so next year, we're gonna get another mill and most likely get a couple of Tormach lathes as well," he says.
This is the second educational institution that Schultz has introduced Tormach machines into, and his reasoning is based on a number of factors. One of the most attractive parts of bringing a Tormach machine into an educational space is the price point - getting a capable machine tool that can cut real materials is almost always more expensive than institutions with no CNC experience expect. A machine that can cut everything from plastics to titanium for less than $20k means educators like Schultz can get more machines and provide more hands-on experience.
"The really nice thing about the Tormach machines is that you can build up a machine," Schultz explains. "If the budget doesn't allow for it, you don't need to buy an ATC or 4th axis or all the extra accessories. But, you can add it later."
The CNC lab at The Lincoln Academy is on the second floor, which also mean that Schultz was limited on what could get up there. "It's one of those weird extras that you get with a Tormach machine… they fit just about anywhere."
Schultz explains that he sees a lot of value in just getting kids in front of machines. Hands-on experience has been the best way for his scholars to develop the skills and interest in making parts.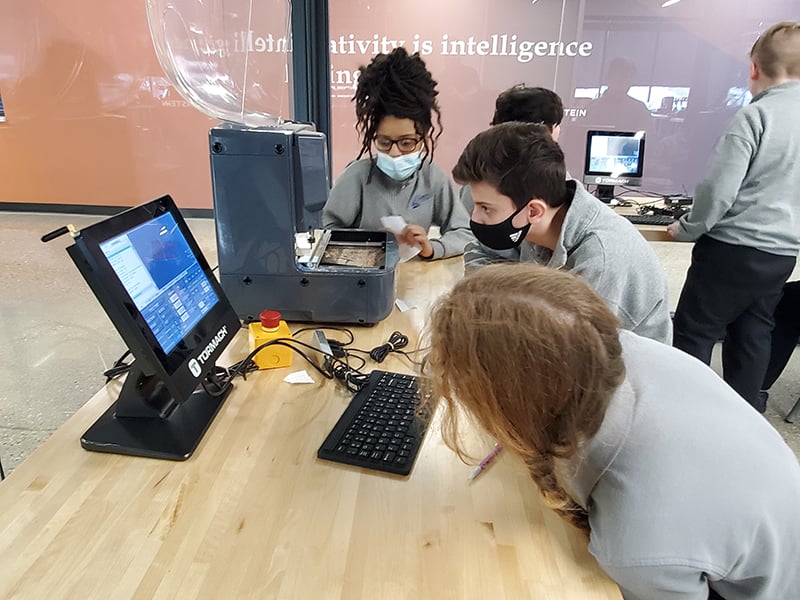 "I've got nothing against any other machine tools out there. There's always going to be higher-end machines that are going to hold tolerances better or go faster and take more off. But I always like to say, listen, here's the part we're making… It's something for our race car or something for our greenhouse, we're able to design and fabricate that. I like to bring in the entrepreneurial standpoint of it with the scholars as well. I tell them, you could buy this machine. If you're able to put out parts and sell them, you're not going to do a summer job working at the fast food joint, you can start your own business."
Schultz is an educator at heart. He looks to not only get his scholars interested in CNC, but really aims to help them build a career out of their skills. As a Tormach user in both the classroom and at home, Schultz is helping to build the future of manufacturing. Looking forward, he's planning to add more Tormach machines, but also broadening the diversity of his curriculum even further with robotics, programming, and integration tech.