At Tormach, we have a long-standing philosophy that we want to provide the most value to our customers. That's why you have the ability to self-service, we have free technical support for as long as you own your machine, and you can take delivery of a mill, lathe, plasma table, or router via a liftgate truck.
Those perks mean that there is some assembly required when you receive your machine. If you have a stand or enclosure, those will need to be assembled, or if you ordered any accessories, like an ATC, those will need to be installed, once your machine arrives.
Every machine is tested before it leaves the factory, but there are a few steps that need to be taken before you can start making chips.
That's why we offer an array of installation and prep videos, as well as easy-to-follow instructions, on our website and on YouTube.
If you are a larger business or school that simply doesn't have the time to commit to assembling your machine and installing accessories (time is money, afterall), we offer an assembly service for a reasonable fee.
An in-house Tormach technician will uncrate your machine in our assembly area, onsite in Waunakee, WI, and get all the prep work done on your machine before it gets sent out for delivery. This also has the added perk of having an extra set of certified eyes on your machine, on the off-chance that something happened during shipping between the factory and our warehouse.
These assembly services are offered in a tiered system, where you can pick and choose what you want installed before shipment. For instance, enclosure assembly requires more time and the building of a custom crate, which means a slightly longer lead time and additional costs. Whereas, if you just want servos or your ATC pre-installed, we can assemble that while your machine is still in its original crate, making the process more streamlined and less costly.
Much like our philosophy with machine design, every customer has different needs, so you have the ability to pick and choose what you'd like installed by our technicians.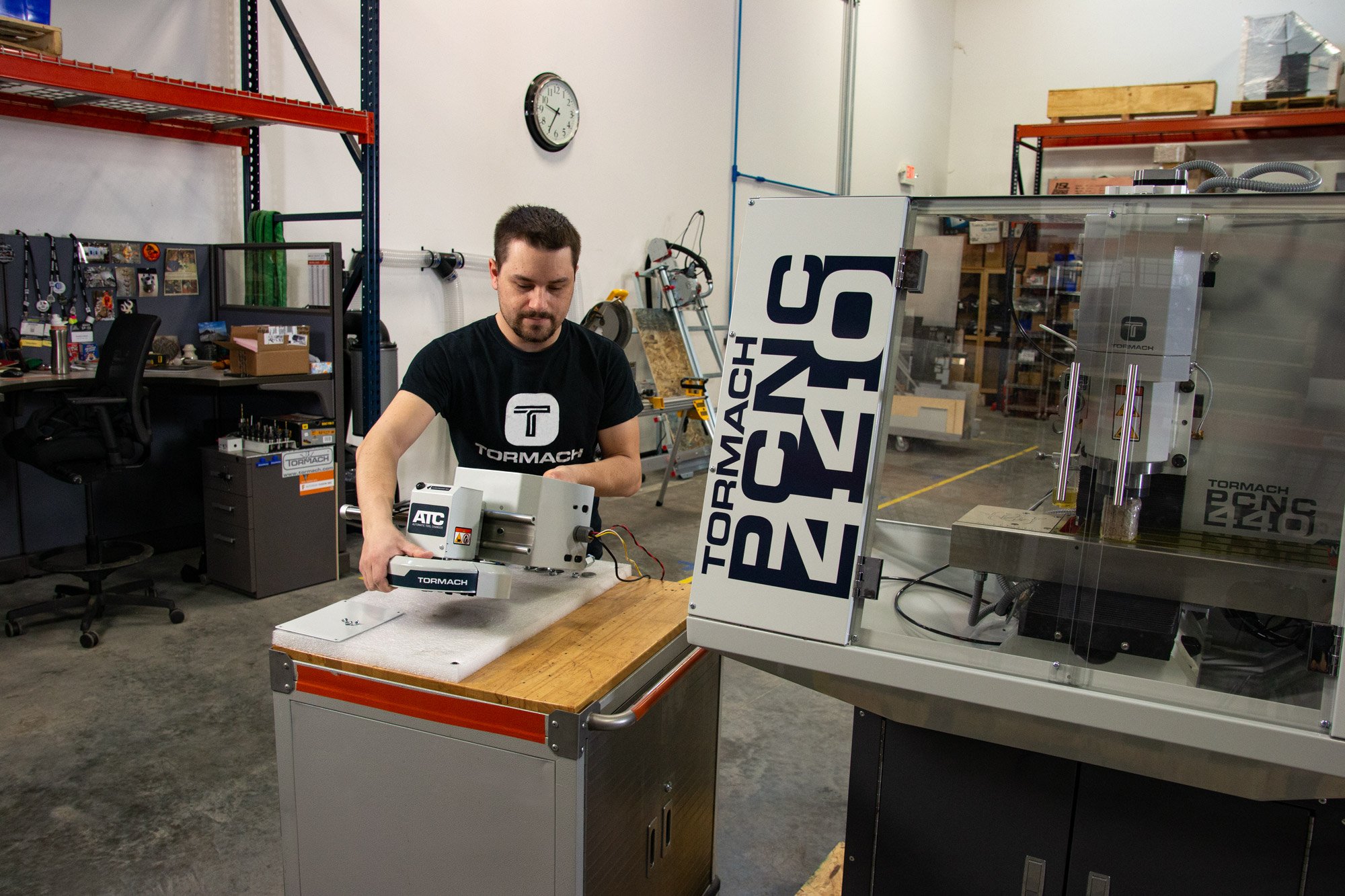 What's more, we also offer onsite installation and training for a fee. That means that we'll send a Tormach technician to your facility once the machine arrives, and they will get it up and running for you. Every step, from stand and enclosure assembly to accessory install and dialing everything in, this is a premium service that will help you start making chips really fast.
Paul Manosky, a teacher at Vancouver Public Schools in Washington, used our onsite assembly services in the past, and said, "The onsite installation was a huge help and I don't think we could've set it up without the Tormach technician onsite. We brought in teachers from all the high schools in our district to take a day of training with him, and it was really helpful."
Another customer that works for a company that engineers building products said, "Going with the onsite assembly was much less of a hassle than trying to figure it out ourselves. We did not have prior knowledge of CNC machines and would have spent a significant amount of time trying to learn when it's more efficient to bring someone in to teach." Things could have gone much differently for the company if they hadn't used Tormach's onsite assembly services, "the table may not have been leveled, parts not properly greased, general improper installation, probably some broken tool bits/probes, there could have been lots of frustration [without the onsite services]."
So whether you're looking to streamline your installation by having our in-house experts install components of your machine before it ships or you want to have a Tormach technician onsite putting your machine together, we have the service for you.
If you're not sure which service might suit your needs best, schedule a pre-sales appointment with one of our Tormach machinists, and they can help you figure out what best fits your needs.