Building a new business can be an intimidating venture, especially when you only have an idea and no real experience. But, good ideas have a way of finding their way out into the world, regardless of the challenges afoot.
Felicia Plunkett and Paul Frazier met each other in what Felicia calls, "the dumpster fire that was 2008." She was about to graduate from college while Paul was in land development and recently unemployed.
"We needed to find a way to pay the bills," Felicia explains. "Paul had always wanted to make a product, and since he was newly unemployed and I had few options myself, it seemed like as good a time as any to start down that path." Both of her parents had long been self-employed, so there was a family admiration for entrepreneurship.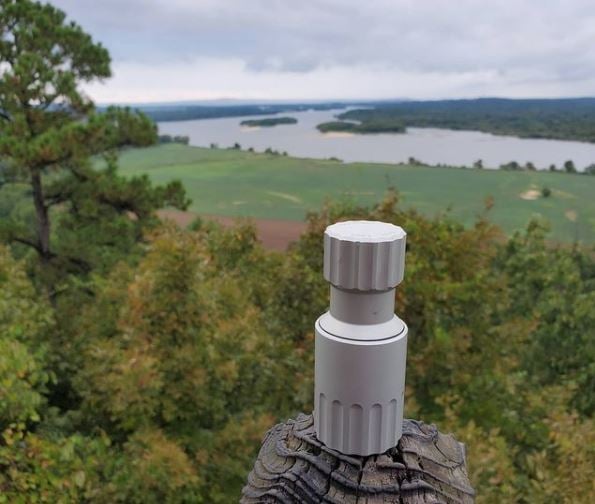 Their flashlight concept seemed like the best option for a viable product. "We've both watched our friends and family struggle with the modes found on most lights, and there wasn't a domestically-made, super durable, yet affordable, option on the market at that time," Felicia explains. "Paul had been keeping a close eye on a material called Quantum Tunneling Composite (QTC) and its use in a flashlight. He came up with a clever way of using it between pistons instead of under the battery, and it eventually evolved into the engine design we use today."
Developing a New Product
Fraz Labs is a team of two. "Paul and I design, prototype, machine, manufacture, anodize, assemble, and mail each and every product we sell, while still designing and prototyping future products. We also handle every aspect of the marketing, website, product development, janitorial, maintenance, customer relations, and anything else that I'm missing because my coffee hasn't kicked in yet."
Their team of just two currently sells the world's first 'wireless' flashlight. Their goal was to design a product that had as few failure points as possible. "Both of us loathe engineered obsolescence. Similar to the old car, firearm, or vintage lighter designs, this light is made with a 'plug-and-play' system which allows folks access to every component. This makes it easy for anyone to change out parts that might fail."
Fraz Labs' original design used traditional wires soldered onto a MCPCB to connect to the LED battery contact points. After testing their prototypes by literally hitting them with bats, throwing them off bridges, running over them with CAT D6 dozers, and sinking them in the lake, they discovered that the biggest point of failure was those solder points.
"It's not hard to band-aid a problem, but we wanted to go the opposite route and eliminate problems entirely. It was also important for users to easily change the LED, as that technology is rapidly evolving, and wiping out the wires checked all those boxes." In fact, you can completely disassemble and assemble their rugged flashlight with just a needle-nose pliers and an Allen wrench. Which makes their flashlight not only robust and inexpensive, but also customizable.
Manufacturing a New Product
Neither Paul nor Felicia had had any experience with creating a product."Neither of us have a shred of formal education in machining or even manufacturing, but we feel as if we now have YouTube degrees from the School of Hard Knocks," Felicia explains. "Basically, we knew we had to make our own products in order to bring exactly what we wanted to market, as most machine shops hated dealing with our napkin drawings and we weren't having much luck getting a call back - much less an actual machining quote."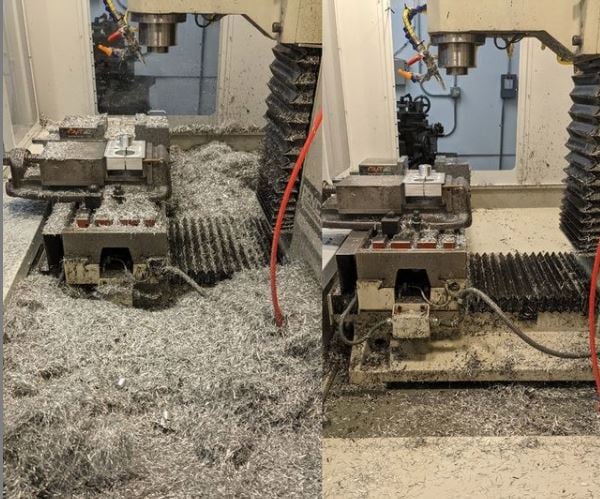 That's when they took to creating a shop in their garage. "Paul bought a beautiful red lathe from Harbor Freight and started a trial-by-fire learning experience that transformed our lives (as well as the garage wall). After the Harbor Freight lathe arrived, he was able to make prototypes out of something other than PVC pipe."
But, when they started taking their product to shops to look at getting production runs made, many facilities weren't sure they could make what Paul had created on their humble garage equipment.
"The looks on their faces when he commented 'Well, we made these on the finest lathe Harbor Freight has to offer…' was priceless. Also, because we are continually teaching ourselves how to make things, we really don't have the mental limitations some have when prototyping. We've had folks tell us certain parts used in our flashlights were impossible to machine, even though we make them weekly."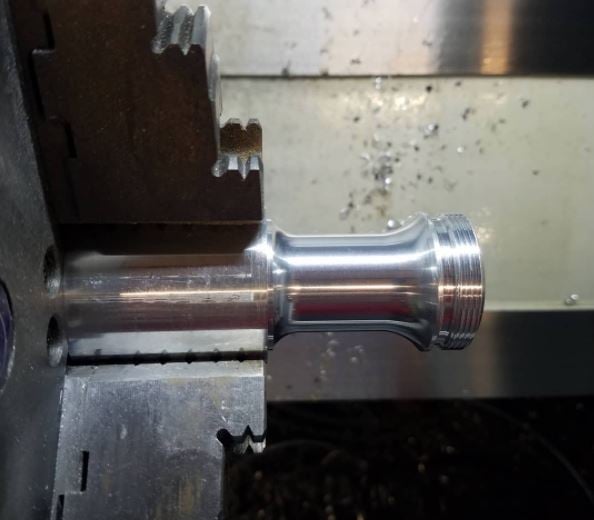 Paul and Felicia realized that they would have to look for ways to bring production in-house. "There was an article in Paul's hometown newspaper advertising the grand opening of a small-business incubator called A-State Innovate."
Paul's mother had been a second grade teacher, and the director of that incubator, Ty Keller, was actually one of her students. "So we had an inside horse that brought us in and showed us the place," Felicia says.
When they first saw the facilities, there was a Tormach 15L Slant-PRO lathe and a PCNC1100 mill sitting on pallets in the middle of a huge room. On their second visit, they got a crash course (minus the actual crash, according to Felicia) in learning CNC. And on Valentine's Day 2018 they helped to tool up the facility's 15L Slant-PRO lathe.
"From that point on, we would spend a week in Jonesboro, Arkansas, two hours from our house in Little Rock, and stay with Paul's parents to work in the shop, then go back home for a week to anodize and assemble things. A few months later, I finished setting up the PCNC 1100 mill and started figuring out how to use it as well."
Using an array of YouTube videos and online resources, as well as leveraging their own stubbornness, they were able to start making usable parts. "Sadly, most were scraps - we had a lot of lessons to learn about deflection, thermal expansion, and QC in general. The plan was to make as many 'sellable' lights as possible, then scale up to purchase machines for our home. After three years and a whole lot of blood, sweat, and energy drinks, we finally made it happen!"
Adding Tormach to Their Shop
When Paul and Felicia were ready to add real CNC to their home-shop, they knew Tormach was the right answer for their needs. "Our number one goal was to try to build our business with as little debt as possible," Felicia explains. "Not only was the Tormach price point perfect for us, but the customer service can NOT be beat."
Once they were comfortable with the 15L Slant-PRO and PCNC 1100 at A-State Innovation, the couple decided to purchase a 770M and an AF50 Bandsaw. "The auto bandsaw alone is better than hiring a person - every blank we cut is exact, which was a huge issue in the past, and we don't have to keep up with the thing. It's amazing. Having only a mill at the house has forced us to think about the machining process from a different perspective, and we have moved all our ops to the mill, with the exception of one at the moment."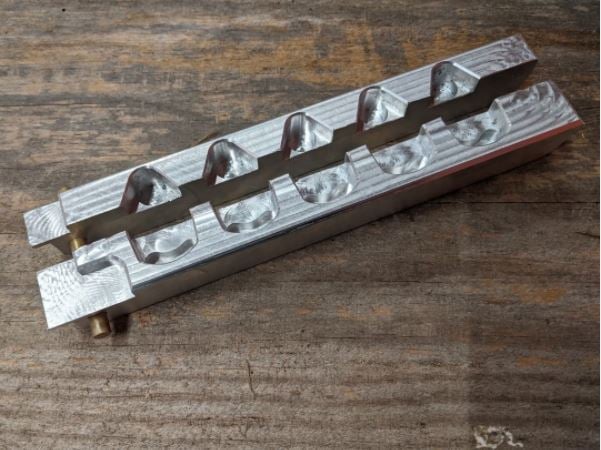 While they started out producing flashlights on a mill and lathe at the incubator, thanks to the fact that all Tormach machines run on standard household (single-phase) power they were able to build a garage shop for their business. With some fancy fixturing, they've figured out how to use their 770M for just about all their CNC work, even parts that were previously cut on the lathe. Now they are making parts like crazy, and have a growing list of customers.
Check out Fraz Labs on Instagram, as well as Felicia, for updates on all of their product, and if you're looking to buy the world's first wireless flashlight, check out their website.