Innovation and efficient manufacturing is essential for any business to succeed, but it is especially important in the world of medical devices. Those with limb differences are often presented with varying challenges from accessibility to prosthetics to making sure those devices fit and function properly.
In 2005, an estimated 1.6 million people in the U.S. had a limb difference, but accessibility and cost are often hurdles to getting a prosthetic. That's why a group of students at University of Central Florida (UCF) in Orlando started Limbitless Solutions in 2014 - to design and build bionics for children who needed a prosthetic arm. The company imagines a world where bionic arms are as common as glasses or braces in a child's life.
Albert Manero, Executive Director, and Dominique Courbin, the Director of Production established Limbitless as a 501(c)(3) non-profit organization and part of UCF. While the company has 5 full-time employees, it regularly has as many as 40 undergraduates from UCF working in engineering, design, production, and other roles. "Our connection with UCF is really valuable to us," said Manero. "It provides Limbitless with an endless pipeline of student creativity."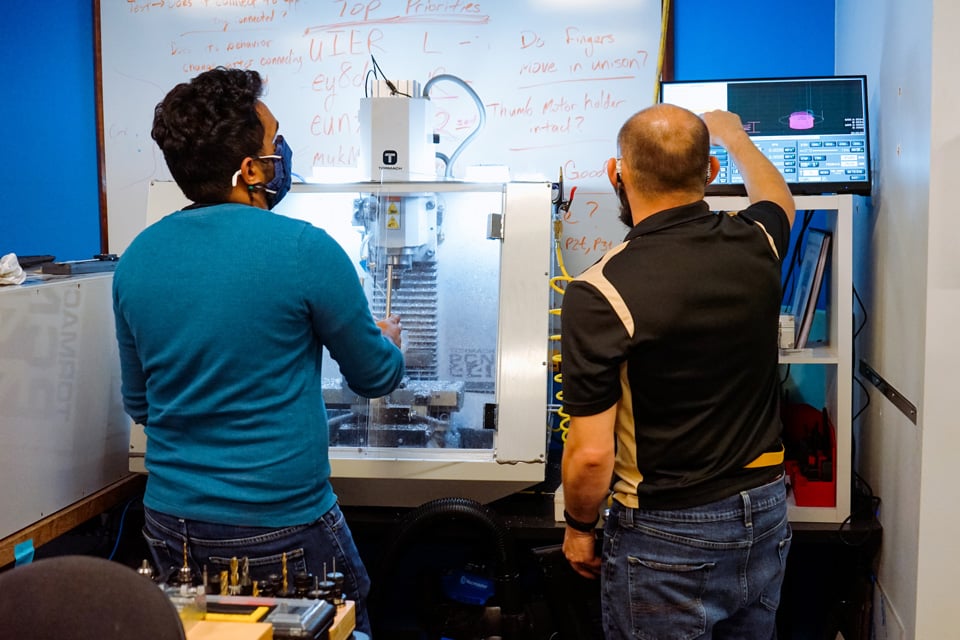 Prototypes and Production
Prosthetics aren't new, but as technology and engineering continue to advance, the development of new devices and production methods is ever-growing.
The company has used a number of 3D printers to prototype and produce small parts. "3D printing will always be a part of our company," said Courbin. "It's great for prototyping, but we want to use the best tool for each specific challenge."
That's why they started to look toward CNC machining parts for injection molding. Courbin explained, "We purchased the Tormach mills to create our own aluminum injection molds, which we use on our in-house vertical molding press to produce parts."
While there are a number of standardized parts on their prosthetics, a need to be agile with component development is essential. Having production in-house means that the Limbitless team can adjust and tweak their components as needed.
"These are exciting times here," said Manero. "We continue to grow and as such, we are working hard to create as many standardized parts as possible for our limbs… We purchased the Tormach mills to create our own aluminum injection molds, which we use on our in-house vertical molding press to produce parts."
Using Tormach Machines
Manero and Courbin first discovered Tormach while presenting at an Autodesk conference on in-house prototyping. "We heard that Tormach was the best machinery for makers like us, who wanted to ramp up our machining capabilities," said Courbin.
Limbitless bought a Tormach 8L almost as soon as they were available, and then quickly purchased a PCNC 440. With the success of these two machines in-house, they recently purchased a 770M after receiving a grant.
"It's hard to buy small quantities of anything, especially with the current supply chain challenges," said Courbin, "so we decided to bring machining capability in-house. The Tormach machinery is perfect for us. It provides the high-speed machining and higher spindle speeds we need to create our molds, and Tormach's support and guidance has been great."
Currently, nine parts are injection molded for a typical Limbitless limb, but their goal is to get to 16 standardized parts.
Now, Limbitless has successfully placed 40 prosthetic arms and has a goal of placing another 25 in 2022. They are also working to raise funds to donate 100 bionic arms and fully support 100 Bionic Kids (at $10,000 in projected expenses to the program per participant) in future clinical trials. The company is working towards the goal of someday having arms available to anyone who needs one.
We love seeing companies do work for good and Tormach is proud to be a part of Limbitless' journey.