Choosing the right machine for your needs can be a long process, especially if you're inexperienced with manufacturing or are new to CNC. You need to research, quantify your needs, research again, budget… the list goes on and on. That's part of what drove Steve Dunthorne to document his process of buying, assembling, and learning to use a 770MX mill.
"Hand on heart I had no idea I would end up writing a book when I purchased my Tormach," Dunthorne explained. "I purposely haven't tried to re-invent the wheel. This is not an instruction manual for Tormach milling machines. The user manual Tormach has already written, together with all their online help, does all this perfectly. My book, though, can be thought of as something to read before you order your machine." Dunthorne's book is titled Blurring the Edges: Buying, assembling, and teaching myself to use a 770MX Tormach CNC milling machine. My Journey from distinctly novice to relative competence.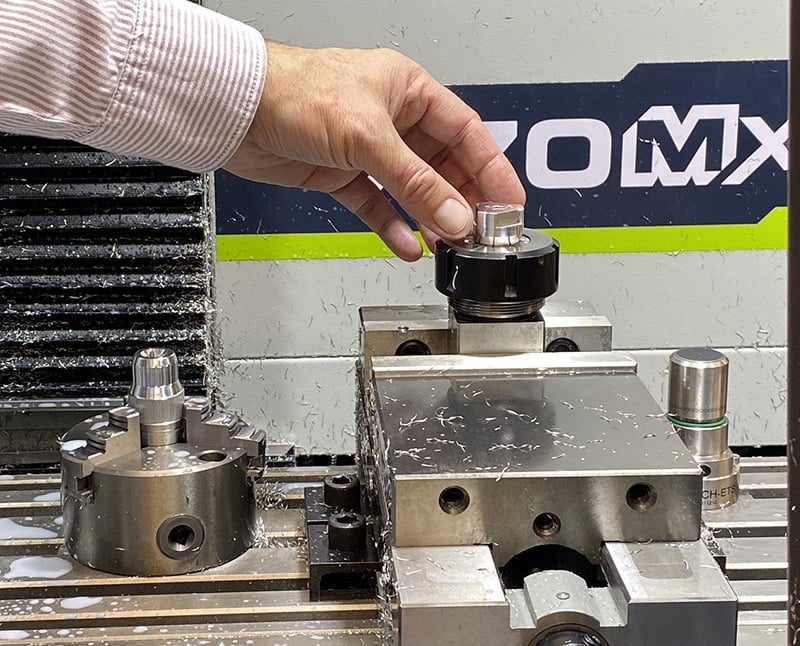 Dunthorne lives in the UK, which has given him a different perspective on manufacturing than many U.S.-based Tormach users. He believes that the UK market has yet to establish a booming small-scale/startup manufacturing culture, but he sees massive potential with machines like Tormach's offerings and a younger generation of budding engineers and machinists.
A CNC Newbie Gets a 770MX
While he's never worked in the manufacturing sector, Dunthorne has always been enthralled by the world of making things. Before getting his 770MX, he filled his garage with the typical tools - a manual lathe and mill, a pillar drill, a bandsaw, welding and plasma equipment. His initial leap into the world of digital manufacturing started with desktop 3D printing.
"It was only recently that I learned to draw three-dimensional parts using Fusion 360 software. It was January 2020 when I took delivery of my 3D printer, and then by April 2021, Tormach had delivered my shiny new 770MX mill. Literally my knowledge of 3D modeling, CAD, CAM, and CNC started from scratch less than three years ago."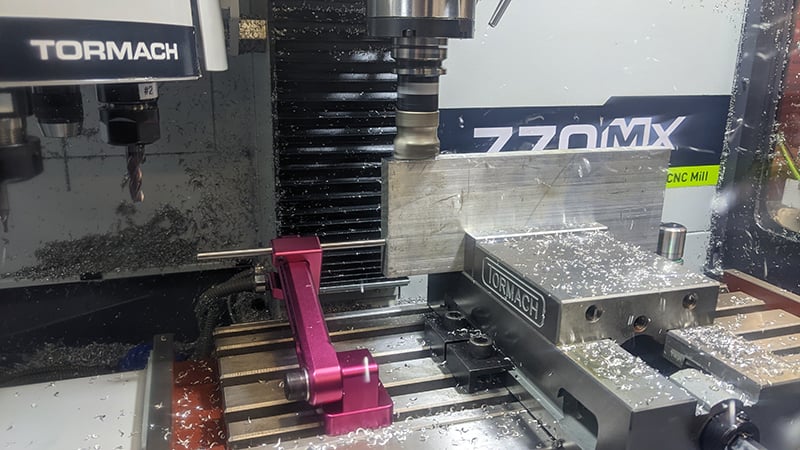 Dunthorne chose Tormach after extensive research. He weighed a number of options, but he chose to buy a Tormach mill for two major reasons.
"Firstly, I really like PathPilot, the operating system which Tormach has created. How did I know I liked it? That's easy, you can open a free account online called PathPilot HUB and see for yourself how it looks and behaves on your own computer screen. That's before you have ever seen the real machine. Through this interface, Tormach have created a very powerful controller which does everything you need, yet is straightforward to understand, and therefore easy to learn."
The other major reason Tormach caught Dunthorne's attention was our online web presence. "These days, there is only one place we all go for help, and that's the internet. [There is a lot of] advice, blogs, and YouTube videos made 'in-house'. But it doesn't stop there. There are also dozens of YouTube videos online from other users keen to offer help and advice about Tormach machines. Other comparable manufacturers don't appear to enjoy this level of online support."
He was ready to take the leap with Tormach because ease of use and the ability to grow with the machine were priorities.
The Challenges of Learning CNC
Dunthorne's book documents his process of learning to machine with his 770MX. While working with his Tormach mill eased the process of self-educating, there was still a learning curve to tackle.
"I was already comfortable designing parts in three dimensions using Fusion 360 when I got the Tormach. So, it made sense I should try to stretch myself and learn the manufacturing side of Fusion too. And then having to import the Tormach post processor into the software, set up a Fusion cloud tool library, which resembled the actual tools in my Tormach tool library, except by this time, I hardly had any tools, and didn't know which I would need. Then, to learn from scratch the computer aided manufacturing (CAM) and start to program the cutting processes… inevitably it all became 'a bit tricky' to say the least. I think this was the moment I took stock and spent some serious time studying and figuring things out."
Part of the inspiration for writing his book came from the realization that he couldn't be the only person going through this process. In fact, there are a number of new CNC users that encounter the same hurdles that Dunthorne overcame. He credits writing his book to helping clarify many of the processes.
"You will overload your spindle and it will stop dead, and you will break some tools, and it's annoying because decent quality carbide tools are not cheap.Nevertheless, as your knowledge grows, you gain confidence, and with that you gain capacity to think about things in greater detail and that's when it all clicks and you start to program the manufacturing more professionally."
Dunthorne also credits part of his positive learning experience to the Tormach community. Whether it's Instagram or the community pages on Facebook or the new Tormach Forums, users have the ability to connect with each other and the Tormach team to better their experience and make better parts. "There's the feeling that you are part of a wider club, with Tormach ownership. There is so much help, advice, assistance from other users on Facebook and Instagram, and of course YouTube, you can't help but feel part of it," he explained.
Technical Support for the Win
Even though Dunthorne was teaching himself how to machine, he wasn't alone. Through his journey, he worked within the community of users and when he ran into technical snags, he had the Tormach support team to help.
"I had a minor issue with a spindle motor acceleration alarm. Within days, I had made a new pal, he was hooked up to my machine (I am in the English Home Counties and he is in Wisconsin) and we were doing live tests on my 770MX remotely. We solved the problem, and it added to their database too. Everyone wins."
When Dunthorne visited Tormach headquarters in the fall of 2022, he met up with one of the Tormach pre-sales engineers to talk about adding a lathe to his arsenal of garage machinery. The Tormach team member gave him a first-hand technical tour of both the 15L and 8L lathes.
"I am still undecided what to do. I like the idea of automatic tool changes, so naturally the 15L draws my attention with its huge 8-tool turret, and it can even accommodate more tools on the gang tooling plate. The smaller lathe doesn't have this facility, but is a much newer design and getting rave reviews for its accuracy and repeatability. The other factor I am looking at is space in my garage."
While he decides on what route to go for his next machine, Dunthorne is already kicking around the idea of a new book. "A lathe will have great synergy with my mill, and there is a lot to learn too. The CAD side seems to be quite different with lathes, I have been reading, and it certainly intrigues me a great deal. Will I write another book, this time on turning? You'll have to wait and see."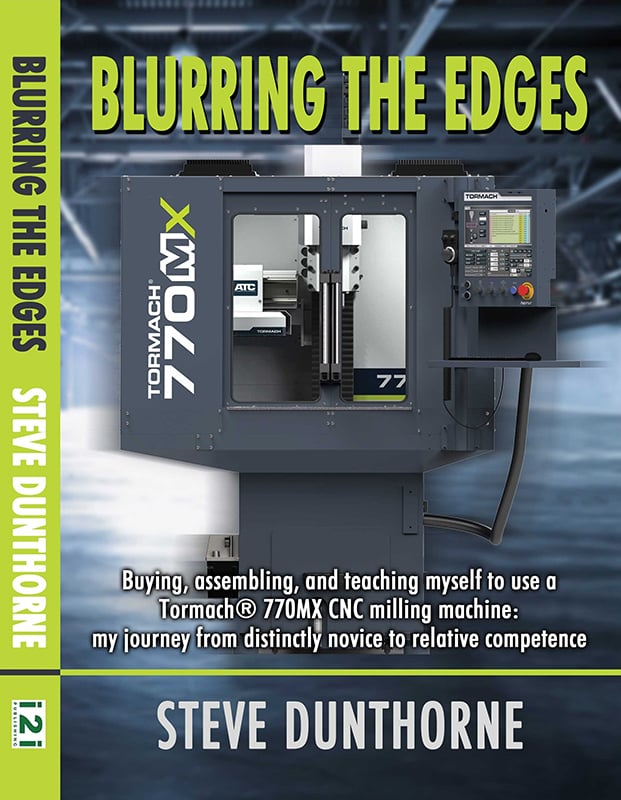 If you're in the UK, you can pick up Dunthorne's book here: https://www.amazon.co.uk/Blurring-Edges-assembling-distinctly-competence/dp/1914933303
In the U.S., here: https://www.amazon.com/Blurring-Edges-assembling-distinctly-competence/dp/1914933303
Or visit his website, www.blurringtheedges.co.uk.