Knifemaking is a popular art amongst Tormach owners. Years ago, the Grimsmo brothers brought attention to how easily a small business can start making quality knives with access to Tormach equipment.
Now, a new generation of knifemakers are getting their hands on CNC with Tormach machines, and they are making some beautiful parts. Jayson Van Camp started getting into CNC when he was looking to modify some daily carry knives. After a number of successful modifications, he turned to making his own knives and launched VC Edge.
"I have come to understand over the years of collecting knives that the importance is not just having a tool that can cut, you can get one of those very cheap almost anywhere, but it matters how it makes you feel to have/hold/use it," Van Camp explained. "It's very similar to the reasons people like expensive watches, or fancy cars, or nice shoes, if it's something you use on a regular basis it's much more satisfyingly done with a finely crafted instrument."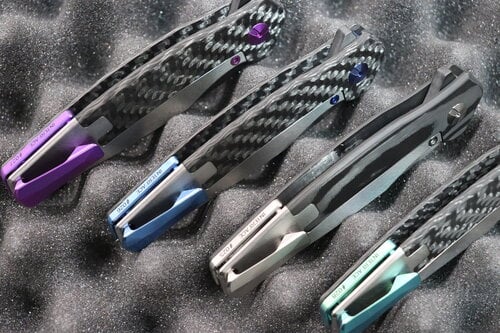 He purchased an 1100MX (with a microARC 4th axis), and uses it to create his high-end, ultra-light pocket knives. Sporting a 3.6 inch blade, his knife, known as the "Interface," weighs just 1.7 oz, thanks to Van Camp's unique carbon fiber body design.
"I had been looking at Tormach mills for a long time while learning CNC machining because of the more reasonable price compared to others and the community surrounding them. The first consideration was the machine footprint and overall size. I needed it to fit into a normal garage space and use normal 240V single phase electricity."
In July of 2020, Van Camp's 1100MX was delivered, and he got to work.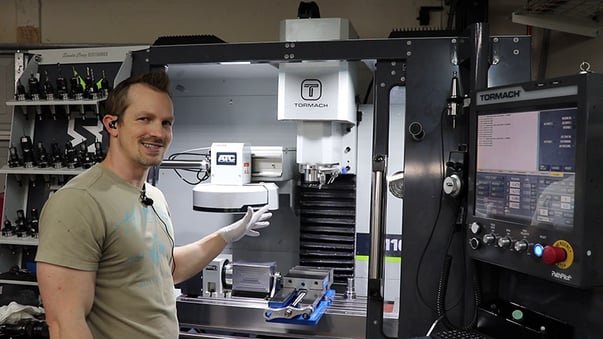 A 4th Axis for Knifemaking?
Most knifemakers use a CNC machine to create custom pieces for their knife setup, and because pocket knives are generally supposed to fit in your pocket, the parts are typically quite flat. Van Camp bought a microARC 4th axis with his 1100MX, which might seem out of the ordinary for a knifemaker.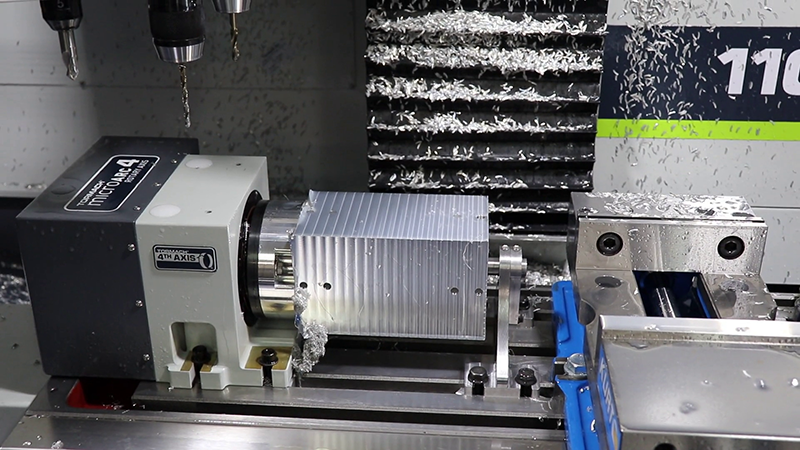 "I'm currently using the microARC 4th axis as a positioner for palletized setups on a tombstone. This allows me to get a lot more parts done in a single run and let it go on machining unattended for longer. Otherwise I would have to babysit the machine while it only does a few parts at a time."
With a microARC on his 1100MX, Van Camp has been able to construct a more automated and efficient process for creating his knives. Palletizing is a way to provide quick loading and unloading of parts, so he can let the machine get back to work, and then adding the 4th axis means he can have several setups in the machine at once - freeing him up to take care of more hands-on tasks and run his business.
He continued, "One of the other major advantages to using the 4th axis is the outside contouring of several knife parts. This requires the use of small ball end mills, and I can use the microARC to tilt the pallet for the contouring. Then, I can reliably move back to flat when the next operation requires it. That means I'm using more of the side of the ball cutting tool, rather than just the very tip. As a result, I get better surface finishes and much longer lasting tools than I ever did before."
Not only does it provide more efficiency with setups, but the microARC saves Van Camp money on tooling, as well as creating a more appealing part!
CNC Knifemaking
Knives come in a variety of materials and designs. Van Camp's knives require careful material consideration and engineering to make them strong enough for daily use while remaining light and aesthetically pleasing.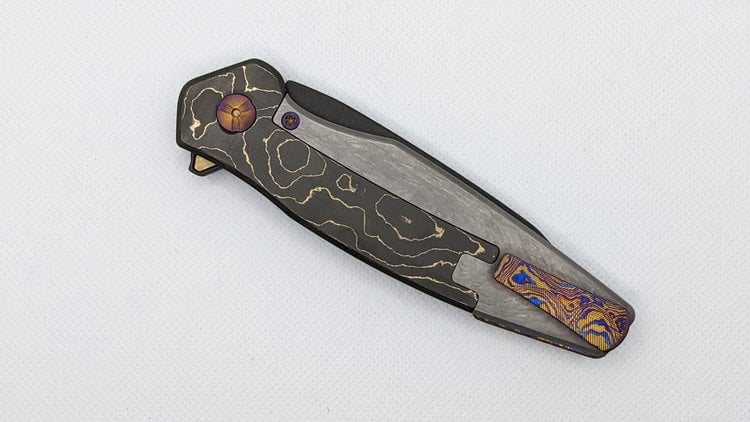 "Making these knives requires an unusual amount of machining to take enough material away. For example, one individual pocket clip will spend an entire hour in the CNC machine," he explained. "I love to use titanium and carbon fiber the most, but I also use a lot of other materials, like aluminum, steel, stabilized wood burl, and bronze. Basically anything that you can cut with a carbide end mill, so there are not many limitations."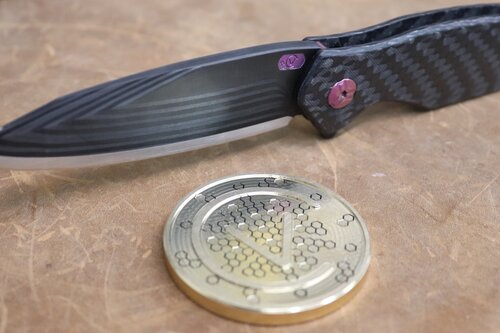 Van Camp chose the 1100MX for the work area and the 10k spindle, but he's also happy with the tolerances he can hold. "Tolerance stack up can be a problem when building knives, if you're not careful, and the tolerances are very tight on many parts of my knives."
While there is a certain amount of hand finishing that happens in his shop, Van Camp is also a fan of "as machined" parts, when they are done correctly. "I often leave that finish where I can. The better the parts come off the machine, accuracy and appearance wise, the less work needs to be done after."
Van Camp is documenting his knifemaking processes on YouTube and through Instagram, and he's actively selling his knives on the VC Edge website.