This article originally appeared as an In The Loupe blogpost. In today's ultra-competitive industry, every machine shop seeks even the slightest edge to gain an advantage on their competition and boost their bottom line. However, what many machinists don't know is that improving their shop's efficiency might be easier than they thought. The following five ways your shop is inefficient will provide a clear starting point of where to look for machinists desperate to earn a competitive edge.
1. Premature Tool Decay / Tool Failure
If you're finding that your tools are failing or breaking at an unacceptable rate, don't mistake it for commonplace. It doesn't have to be. Prolonging the life of your tooling starts with finding not just the right tool, but the best one; as well as running it in a way to get its optimal performance. Many machinists mistake premature tool failure with running parameters that were too aggressive. In fact, not pushing the tool to its full potential can actually cause it to decay at an accelerated rate in certain situations. Tool failure can occur in many different ways: abrasive wear, chipping, thermal cracking or tool fracture, just to name a few. Understanding each type and its causes can help you to quickly boost your shop's efficiency by minimizing downtime and saving on replacement tool costs.
For more information on tool wear, see Avoiding 4 Major Types of Tool Wear.
2. Subpar Part Finish
Your shop spends money to employ machinists, run machines, and buy cutting tools. Get your money's worth, lead the industry, and ensure that you're providing your customers with the highest quality product. Not only will this help to keep your buyer-seller relationship strong, but it will allow you the flexibility to increase your prices in the future, and will attract prospective customers. Many factors influence part finish, including the material and its hardness, the speeds and feeds you're running your tool at, tool deflection, and the tool-to-workpiece orientation. For more information on ways to improve your part finish, view our Part Finish Reference Guide.
3. Inefficient Coolant Usage
One often forgotten expense of a machine shop is coolant – and it can be pricey. A 55-gallon drum of coolant can run more than $1500. What's worse is that coolant is often applied in excess of what's required for the job. In fact, some machines even feature a Minimum Quantity Lubricant (MQL) functionality, which applies coolant as an extremely fine mist or aerosol, providing just enough coolant to perform a given operation effectively. While drowning a workpiece in coolant, known as a "flood coolant," is sometimes needed, it is oftentimes utilized on jobs that would suffice with much less. https://www.instagram.com/p/BY-_UWqAYVM/?hl=en&taken-by=harveytool For more information about coolants and which method of application might be best for your job, see What You Need to Know About Coolant for CNC Machining.
4. Not Taking Advantage of Tool Versatility
Did you know that several CNC cutting tools can perform multiple operations? For example, a chamfer mill can chamfer, bevel, deburr, and countersink. Some chamfer mills can even be used as a spotting drill. Of course, the complexity of the job will dictate your ability to reap the benefits of a tool's versatility. For instance, a spotting drill is obviously the best option for spotting a hole. If performing a simple operation, though, don't go out of your way to buy additional tooling when what's already in your carousel can handle it.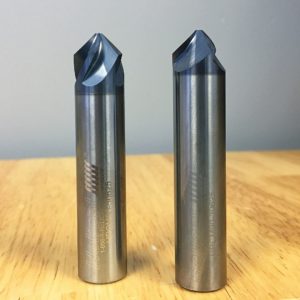 To learn more about versatile tools that can perform multiple applications, check out Multi-Functional Tools Every Shop Should Have.
5. High Machine Downtime
What use is a machine that's not running? Minimizing machine downtime is a key way to ensure that your shop is reaching its efficiency pinnacle. This can be accomplished a variety of ways, including keeping similar parts together. This allows for a simple swap-in, swap-out of material to be machined by the same cutting tool. This saves valuable time swapping out tooling, and lets your machine to do its job for more time per workday. Production planning is a key factor to running an efficient machine shop.