Tormach has had a long-standing affection for the world of FIRST Robotics. And not just because our machines can be used in a number of ways to create FIRST Robotics Competition and FIRST Tech Challenge robots.
We've helped a number of local teams, and even worked the pits at regional and national events, over the years.
While we are planning on being in the pits for some events this year, helping with emergency repairs and making last-minute part revisions, a number of teams have found that owning their own Tormach machines is very useful throughout the process of creating their robots.
Tormach Mills for FIRST
We are well known as a company that creates approachable 3-axis CNC mills, and for good reason - our first (and still flagship) machine is a Bridgeport-sized mill. But how can a FIRST Robotics team use a PCNC 440, 770M or 1100M mill?
The uses can range from extremely basic to utterly complex. We've seen a number of teams arrive at FIRST competitions with 3D-printed parts. 3D printers are great, but the parts are not as robust as aluminum or steel components. Printed plastic parts are great for prototyping and testing, but if you want your robot to hold up during the strains of competition, machining them out of harder materials is a must.
Brackets and mounting components are often essential to keep the inner workings of robots functioning, and all of the mills that are available from Tormach are capable of making metal parts for these sorts of needs. Oftentimes, these parts can even be created on the fly with the conversational programming in our PathPilot control software.
What's more, you can use CNC to its full capabilities by making more complex parts like sprockets and organic shapes. While it might seem like a luxury at first, once you start using stronger, CNC-made parts, you'll never go back to off-the-shelf components again.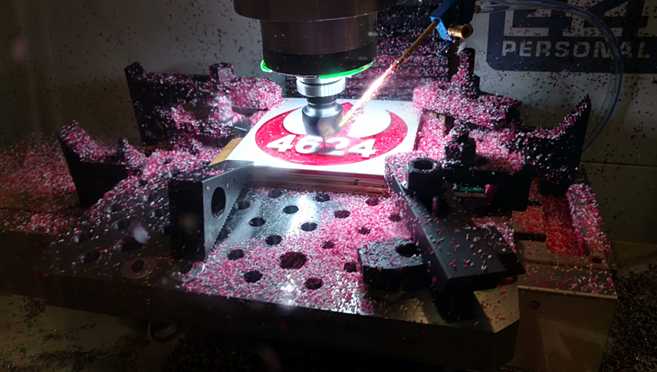 Lastly, you can make branded components or engrave insignias on your parts. When you're working with or competing against other teams, it's helpful to broadcast who you are with some well-designed team branding on your robot.
Some teams have been embracing CNC with Tormach for years…

FIRST Team 1403: Cougar Robotics from South Brunswick Township, New Jersey loves their Tormach mill so much that they made and shared a spotlight video of it on Facebook! "6 years. That is how long Team 1403 has used our Tormach 770 CNC Machine. This student-run machine has allowed our team to reach new depths within the quality of our work."

Check it out here: https://fb.watch/aC_J61qg2a/
FIRST Parts with a 24R CNC Router
While Tormach is well known for being a company that works mostly with metal, our 24R CNC Router can offer a lot of possibilities for FIRST Robotics teams.
Many teams use a small, table-top router to make plastic parts or other components for competition. With a Tormach router, you have the ability to make those parts at scale, which means lots of parts, fast. So, you'll never have to worry about not having spares or parts that don't fit.
Also, depending on the enclosure design for your FIRST robot, you can cut plastic panels to precisely fit for competition.
The 24R Router also runs on Tormach's easy-to-use PathPilot control system, which has a streamlined interface that even beginners can pick up quickly.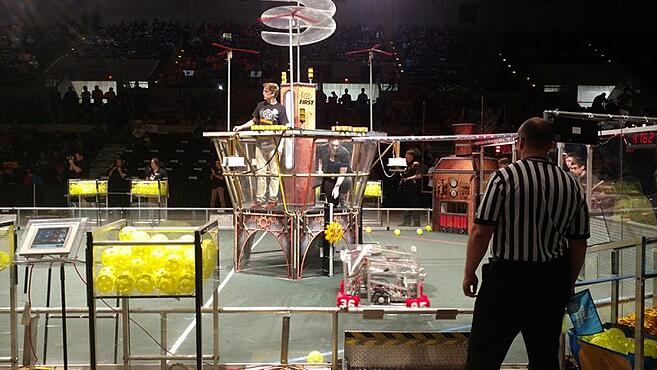 Heavy Duty Robots with a 1300PL Plasma Table
Depending on the year's competition needs, a 1300PL Plasma Table can provide more robust, flat parts for your robot.
The 1300PL can help you make connectors, brackets, or even some heavy-duty panels. Using a table of this size, that runs on the PathPilot control system, means you can create multiple parts that are exactly the same, which can save time and headaches as you progress through the season.
There are a number of Tormach machines that can help make all the FIRST Robotics parts you might need, year over year. Each machine has some specific value to your team, depending on what your needs might be.
We all know that things don't always go as planned when you're building robots. What can be sure is that it's easier to get things right with your own Tormach machine. By making parts yourself, you can not only avoid the costs of outsourcing your manufacturing, but you can also save tons of time because you don't have to rely on another facility.
If you aren't sure what machine tool might be best to help you create parts, get in touch with our Technical Presales Team, and an experienced machinist will help you navigate to the right machine(s) for your team.