DarkAero is a small aerospace company based in Madison, WI that is looking to create a personal aircraft that the user purchases in components and builds themselves. While this isn't a new concept in the world of experimental aircraft, DarkAero is looking to go further and faster.
And that means a lot of product development and prototyping.
The business of DarkAero consists of three brothers who are all engineers, so they know their stuff when it comes to design. While most of the aircraft is made of composites, there are a number of machined parts that needed to be hashed out before it became a reality.
While an engine bracket or a landing gear mechanism might seem straightforward, these components are critical to a viable aircraft. The parts need to be light, yet strong, and that means lots of engineering, development, and prototyping.
"There are benefits to throwing it over the wall and outsourcing sometimes, but if you have the capability to do it all under one roof, things can happen so quickly," says Ryley Karl, the eldest of the brothers.
Because prototyping was such an essential part of their design process and they wanted to stay on budget, the Karl brothers put a lot of weight in their capital equipment decisions.
The Variables Considered
A machine purchase or outsourcing decision is a pivotal choice. If you pick the wrong one for your business, things could get expensive really fast, or worse, getting your product to market could take ages.
The Karl brothers weighed a number of different variables when making their decision. The variables considered for buying a machine included:
Machine volume (work envelope)

Machine capability (holdable tolerances and materials that can be machined, tooling options, work holding options, etc.)

Power requirements (operating power could not exceed the available power in hangar of 50 amps)

Price point (their budget was in the $10k range)

Overall machine size (they needed to be able to get it in and out of our hangar without heavy equipment)

Support and learning curve (they wanted something that they could get in the shop and hit the ground running)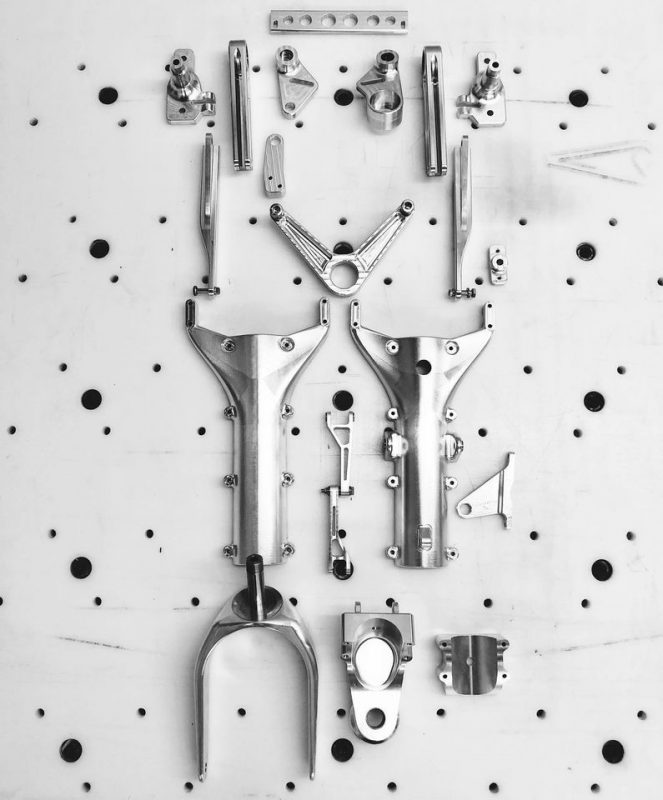 Prototyping Options
There are a variety of ways to prototype, from 3D printing to machining, but it really depends on your pain thresholds for time and money. Some prototyping processes are less robust but they're faster and cheaper. Some prototyping can help you check the form and function of your parts, but they are far from production manufacturing, which can lead to new challenges.
DarkAero tried to weigh as many possibilities and potential challenges as possible when choosing a prototyping method. Machines that they considered included:
SLA (stereolithography) 3D printing

Small Desktop CNC Mill

Tormach PCNC 1100

Slightly Larger than Small VMC

Outsourcing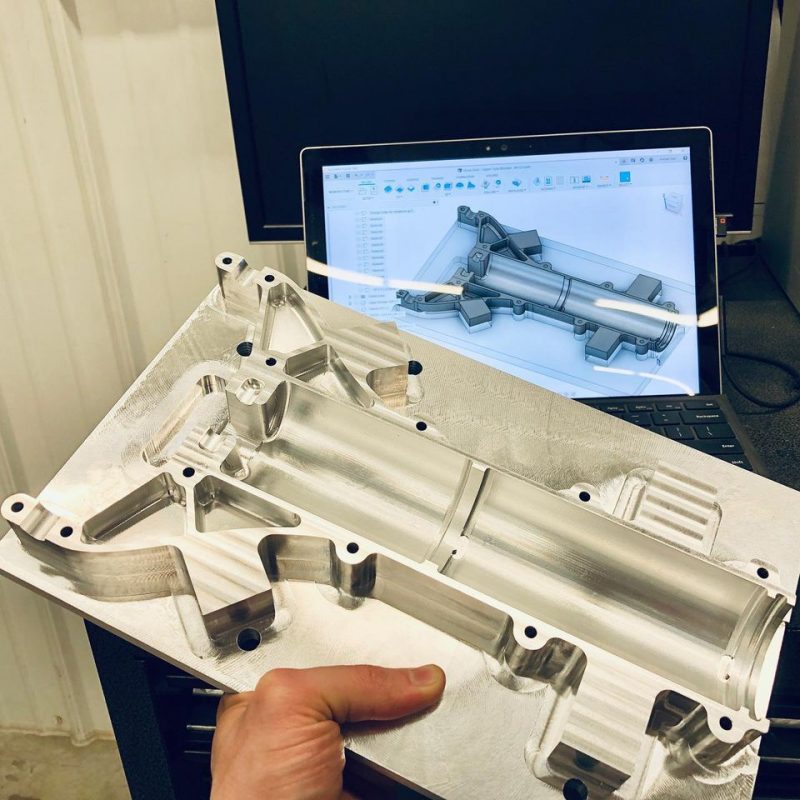 Making a Decision
SLA 3D Printer
Because of their initial concept to mold parts and piles of research into SLA, the brothers bought a 3D printer initially. They quickly concluded that a 3D printer didn't have the repeatability for their needs. Not only that, they also realized that using a 3D printer for prototyping, and potentially production, just didn't scale well.
Keegan Karl, who is the brother who does most of the machining of DarkAero's parts, says, "Pricing was all over the place and to get the type of printer we needed, it was well outside our price range. Even outsourcing prints to print farms would have been very expensive."
Obviously, metal 3D printing is a growing option in a space like this. While this was intriguing to the brothers, it was still very expensive and still required machining for accurate, final part features.
When selling experimental aircraft, there aren't high production volumes, so they found it hard to justify investing in a casting process.
Small Desktop CNC Mill
All the small desktop CNC mills that DarkAero researched were limited in terms of speed, rigidity, and accuracy. While these small mills were in the right price range, the brothers found that they just weren't the right tool for the job.
Beyond the lack of rigidity and accuracy, small desktop CNCs are exactly that… small. They found that the majority of the parts they wanted to CNC just didn't fit in the work envelope, and if they did, it would require some creative workholding.
Slightly Larger than Small VMC
The brothers researched using a more robust VMC system. While they were impressed with the capabilities, the VMCs were quite intimidating for rookie machine operators and seemed to have less support for entry-level users. Their goal was to start prototyping quickly, but with a steep learning curve, a small VMC would have cost more time than it was worth.
Other than the usability challenges, the cost to get machining was prohibitive for DarkAero as well. A VMC was simply out of their budget.
Outsourcing
The brothers looked into having their machined parts made out of house, but immediately realized there would be challenges with outsourcing.
"Given the scale of the product we are creating it's tricky trying to get everything "right" the first time. Each time we machine a part and hold it in our hands for the first time, we think of 3-4 improvements we want to make," Keegan Karl explains.
Because their product development process included lots of refining and improving the design throughout the prototype development, the brothers quickly shied away from outsourcing.
Keegan continues, "Being able to control that feedback loop in-house is very powerful in the early stages of development. Outsourcing would not have allowed for that quick, creative feedback loop we need."
Tormach PCNC 1100
The Tormach PCNC 1100 was a bit above DarkAero's initial budget of $10k, but it offered that tight feedback loop that they were looking for.
Keegan says, "Having it in-house helps us keep the cost low. Plus, if we keep learning from the parts that we're making, we can improve on them before we get to that production stage and ship to our first customer."
Using a Tormach mill allowed the brothers to start making parts almost as soon as they got the machine set up. While the process of machining was less intimidating than the VMC, the PCNC 1100 still had the rigidity and precision they needed to make lightweight parts that fit their aircraft without compromising on integrity and robustness.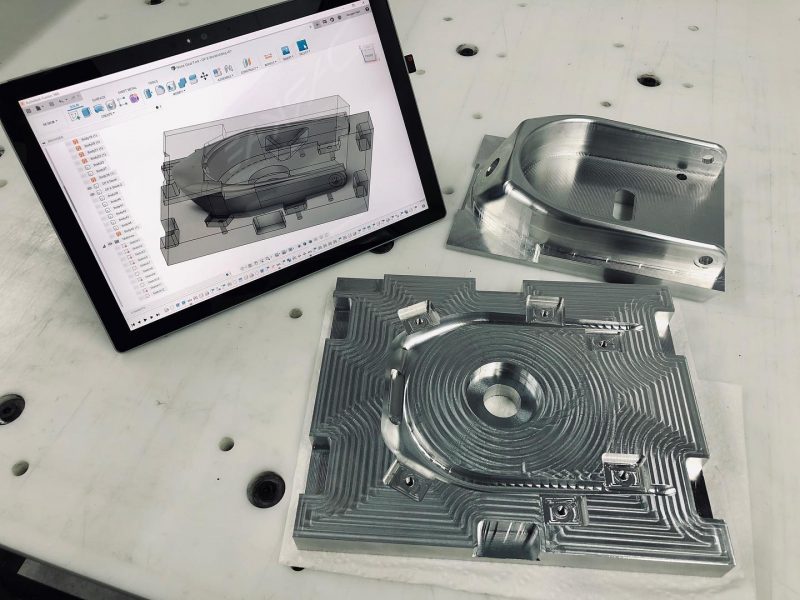 Conclusion
Like so many things in the world of manufacturing and engineering, there are a million different ways to prototype parts. The key is to find the right recipe that fits your needs.
The three brothers of DarkAero knew they wanted to have a tight feedback loop for their parts, but also balance that with cost and time.
While a number of options allowed them to make parts, it was only the Tormach PCNC 1100 that fit their recipe for in-house prototyping without needing to spend extra time learning or cash hiring an operator.
Outsourcing your prototyping can be a viable option if you are looking to do machining work that you aren't comfortable doing, but oftentimes, it can be more expensive or take more time. Bringing prototyping in-house creates that tighter feedback loop, and allows you to make changes faster and more efficiently.
Another benefit to prototyping with a Tormach is that they help develop a tendency to design for manufacturability. The Karl brothers are all engineers, but often designing and manufacturing are two very different things. By machining true-to-production prototypes in-house, DarkAero is confident in both their ability to produce production parts in-house, as well as the manufacturability of the parts if they choose to outsource production.