Learning CNC, testing your tool paths, and getting your programs just right has gotten a lot easier, thanks to PathPilot HUB. Many are already familiar with the PathPilot control system - it's basically the brains of Tormach's CNC machines - but PathPilot HUB brings the entire interface into the cloud.
CNC Educators Rejoice -- A Classroom from Your Living Room
PathPilot HUB gives CNC educators a whole new way to teach - especially in times like these when we are relegated to digital classrooms. Using the PathPilot HUB, educators can allow their students to do everything that they could normally do at the PathPilot controller, without being physically at the machine.
This means that students can create their toolpaths in CAM and test it out in PathPilot before ever getting in front of a machine. It also provides the students with hands-on experience with the controller. While you can't physically jog the machine around and watch it cut air, you can see the simulation in PathPilot HUB and double-check your tool paths and G-code.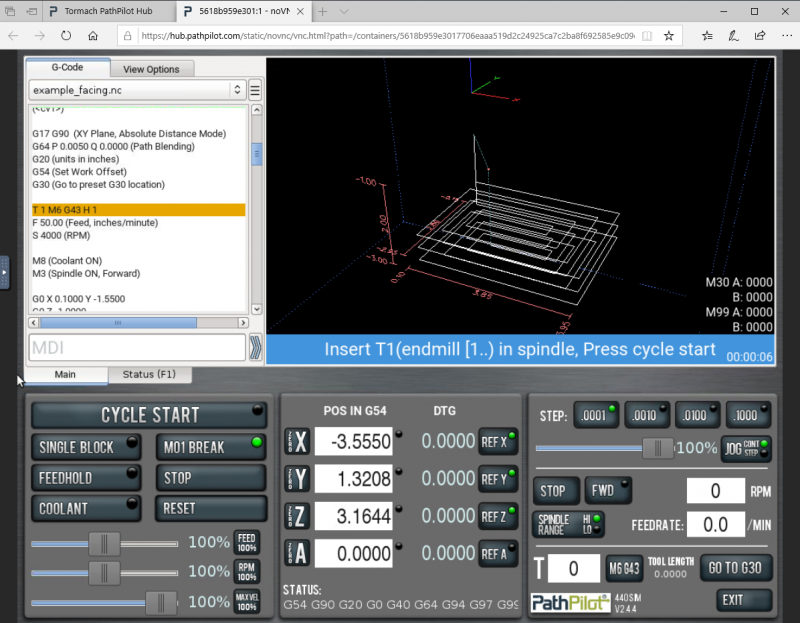 Teachers can also use this method to check their students G-code and monitor what might be headed to a real machine later.
The online instance of the controller in PathPilot HUB is identical to the interface at the Tormach machine, so students can poke, prod, and test in the cloud, before ever getting their hands on a machine.
Perks Outside the World of Education
It isn't just educators that can benefit from having a cloud version of PathPilot. Regular users and business owners have seen some real value from accessing PathPilot HUB.
Like educators, proving out posted code before you actually get to the machine can save you time and frustration, especially if you have to commute to your shop. This means that you can futz around with the CAM and verify that your new toolpath will work before you actually start cutting.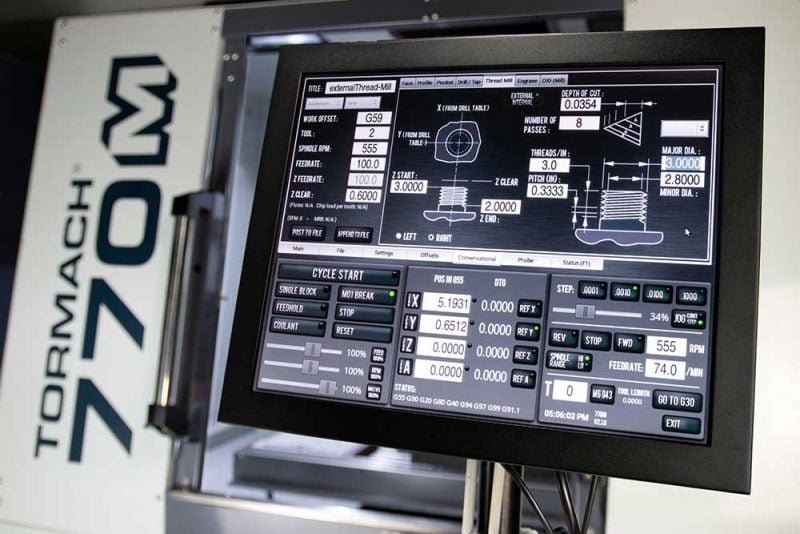 This is also useful when you are working on conversational programming. Sometimes it's easier to sit at home and poke at the conversation concept before you're actually standing at the machine, and you can even test out the G-code before heading out.
Let's be honest, there's a real value argument to be made for being able to do conversational programming from your couch.
A Real CNC Controller in the Cloud
When creating or proving out G-code in PathPilot HUB, one of the biggest perks is that you can keep things in the cloud. If you've connected the PathPilot controller at your machine to Dropbox and you're using PathPilot HUB, there's no longer any need for a USB stick or flash drive.
We've all misplaced a flash drive or forgotten it in the computer when going to the machine. That's no longer a concern using the cloud for your CNC needs.
Using PathPilot HUB, you can create and download your proven-out G-code. Then, you can easily upload the file to Dropbox and head to your machine (or have an operator already at the machine), pull it out of the cloud, and start cutting.
As part of Tormach's dedication to continuous improvement, there are plans to develop a PathPilot HUB to Machine connector, which will allow you to download files directly to your physical machine via PathPilot. Be sure to subscribe to our content to get updates.
Priced Just Right
PathPilot HUB, as well as the cloud functionality of the whole PathPilot control system, is completely free.
This is one of those many software features that some of the larger machine tool companies like to nickel and dime the customers with. PathPilot cloud functionality and access to PathPilot HUB is absolutely FREE.
So, whether you're stuck at home or trying to teach CNC remotely or prove out your G-code before ever standing at your machine, PathPilot HUB provides the ability to access a real CNC controller and test programs to your heart's content.
Sign up for PathPilot HUB here, and get started doing CNC in the cloud!