Every computer numerical control (CNC) machine has a controller, but not all controllers are created equal. The world of CNC is quite broad, ranging from small routers like the xsTECH to much larger 3-axis mills like the 1100MX to building-sized rail-style machining centers for aerospace - there are also CNC lathes, grinders, and even shaping tools.
The one thing all of these tools have in common is that they have a controller… a brain, of sorts, running the machine. That's what makes them CNC.
Because of their approachable place in the woodworking world, CNC routers have been the entry point to computer numerical control for many users. While almost any controller will have the basics of functionality (jogging in X, Y, and Z, and running G-code), there are a number of different ways to get from idea to part that depend on your machine and its control system.
The Basics
G-code is the industry standard to making a CNC go. The most basic of controllers read the code and tell the machine where to travel, but more advanced controllers use G-code for a number of other functions. That's why all Tormach machines, including the 24R router, use the industry-standard Fanuc G-code. This not only helps anybody who knows G-code use our machines, it also makes it easier to transition between machine functions and brands. If you use a Tormach 24R router, the G-code while operating an 1100MX mill or an 8L CNC lathe will be recognizable to you.
Making sure your machine knows how long the cutting tool is and where the tool is located is essential to making parts. Along those same lines, it's vital that your machine knows where your work is located, which not only allows you to cut your stock but also helps avoid crashes.
All routers have a way to provide tool lengths and work offsets, but many require slight work-arounds to get things placed properly. While these work-arounds get the job done, they aren't ideal for repeatability or any form of scaling. If you're going to make more than one of something or use multiple tools in one program, these work-arounds can present serious hurdles. That's why the PathPilot controller that comes standard on the 24R CNC Router provides an interface within the system to do tool touch-offs and work offsets.
Because the PathPilot system uses standard Fanuc G-code, it also makes things easier when you have multiple work offsets. Using G55 and G54 codes to create multiple work offsets allows you to create multiple parts with the same setup, and can be used to help scale production.
Features That Make a Difference
While most router controllers have the basics, there are a number of features that can really make a difference in your CNC router experience.
Many controllers for routers that are 2ftx4ft or even 4ftx8ft are based on a DSP pendant. Most of these pendants have arrows on them for jogging the machine in X, Y, and Z and provide a preview of a few lines of G-code as the machine is running a program.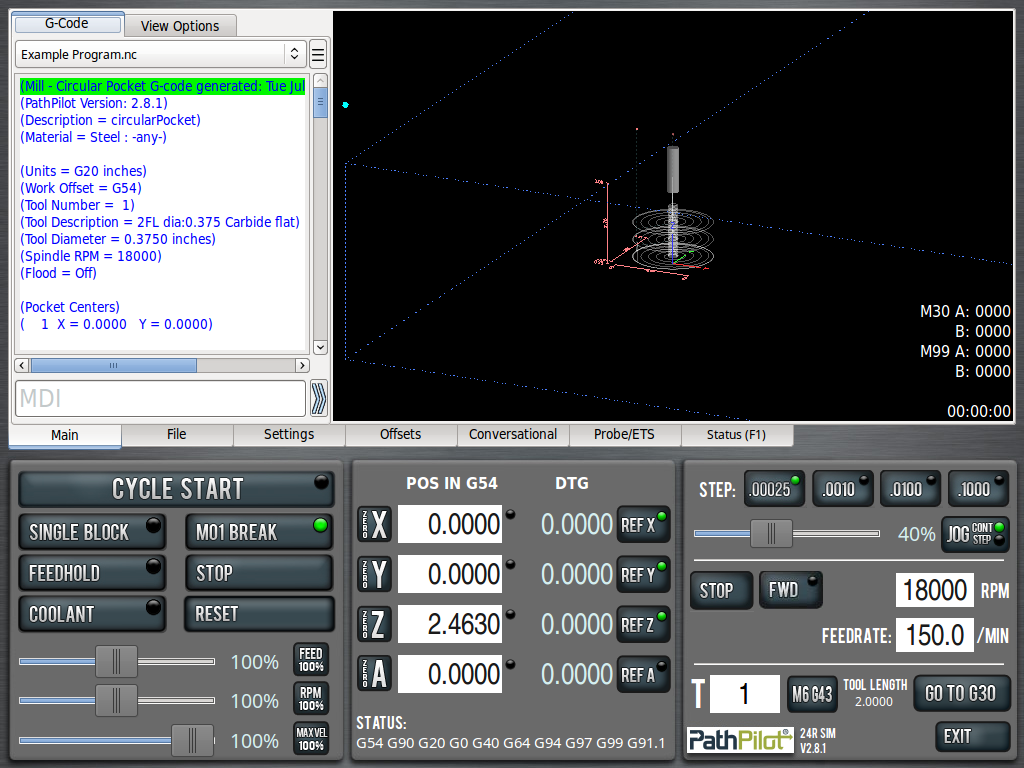 PathPilot has the ability to provide a full 3D toolpath preview within the interface, meaning you can see an outline of the path your cutter will take before you even fire up the spindle. This is valuable because it allows you to see possible collisions before they happen and you have to panic-hit the E-stop.
The PathPilot controller also allows you to preview all lines of your G-code. If you don't know how to read G-code this may seem useless, but it allows you to recognize potential issues and even edit them right in the controller. With this ability, you can also correct G-code and restart in the middle of a program. That means, if you recognize an error while making chips, you can still fix the problem and restart without cutting a bunch of air… saving lots of time.
Because of the system that they operate on, the DSP pendants, as well as WinCNC controllers, often have ramp ups and lag while jogging. This can cause you to overshoot a spot while jogging, as the system doesn't stop immediately. PathPilot is a real-time control system, which means the response time between the controller and the machine is much faster.
Different router controllers have varying valuable features, but the PathPilot control system is one of the few that brings all of them together.
PathPilot's Extras That You Didn't Know You Needed
The PathPilot controller was created in-house at Tormach. That's why every one of our CNC machines uses the system to operate - making it easier for new CNCers to get started and simple for more seasoned operators to transition between machines.
Many routers use a system where the spindle (or in some cases a palm router) operates separate from the rest of the machine - basically, set up where the machine does the movement on its own and the Operator manually controls the spindle Start, stop and RPM. The PathPilot controller fully controls both the machine motion and the spindle, allowing you to use sliders to adjust feeds and speeds on the fly.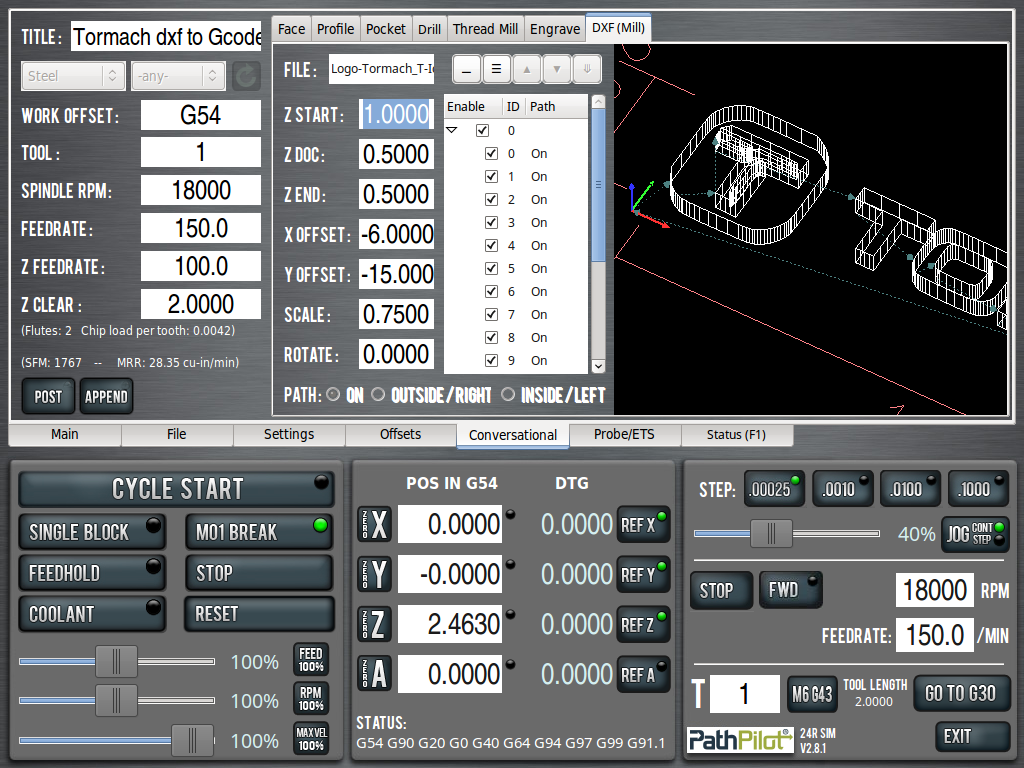 Because the 24R and PathPilot run on standard Fanuc G-code, you can use almost any 2D or 3D CAM software to create toolpaths. But, PathPilot also has a powerful conversational feature onboard. Much like the conversational interfaces that PathPilot has with our mills and lathes, you can create toolpaths right in the controller without ever having to use CAD or CAM. You can even import DXF files directly into the controller, so you can make signs and other 2D work with ease.
PathPilot comes standard with all the features unlocked - we don't keep any of the controller features behind a paywall. That means you can update PathPilot any time a new release comes out, providing you with the most up-to-date capabilities and bug fixes.
We also have our online PathPilot HUB, which gives you the ability to simulate PathPilot in the cloud, so you can prove out your programming and then send the G-code to your machine!
Reid Halvorson, Mechanical Design Technician here at Tormach and lead for the 24R Router, says, "Simply put, PathPilot is a user-friendly software that still does things the right way."
While just about every router controller has the ability to make chips, that doesn't mean they are all created equal. More often than not, it's all about having the right tool for the job. Sometimes using workarounds gets the job done, and that's all you need. But the PathPilot control system has the ability to help you not only get the work done, but also scale and even be prepared for using much larger, high-production-grade machine tools in the future.
Check out our 24R CNC Router package options to build your quote for a new router.