What can you make with the Tormach 1100M & 1100MX CNC mills?

Chances are if you're thinking about a new CNC mill, then you've already got a good imagination.

But even the most fertile mind needs occasional watering.

That's why we want to show you some of the exciting projects a selection of existing Tormach customers have made with their own CNC mills.

Here are five innovative project ideas to get you started on your CNC journey.


1. High-speed, long-range aircraft you can build in your garage

The brainchild of three Wisconsin brothers (Keegan, River, and Ryley Karl), the DarkAero 1 will be the first high-speed, long-range aircraft you can build out of your garage.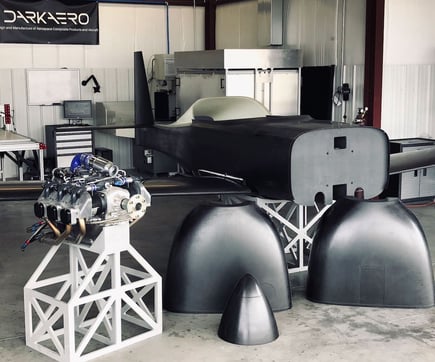 By designing it on their own, and manufacturing all the aerospace-grade aluminum and carbon fiber parts in-house, the brothers have been able to improve the build process to provide their customers with the best construction experience.

Their Tormach PCNC 1100 has been an important part process, as it allows them to make changes on the fly and close their feedback loop.

"It's one thing to see it in their OnShape CAD file, but when it's being milled on-site, they can improve the design quickly. Sending the landing gear and engine mounts out to a third-party job shop would have just slowed down the process."
Keegan Karl

Not only does their Tormach mill allow them to speed up the entire process and reduce overall costs, but it also gives them full control over their designs.

With a Tormach, you're always in control.

2. Distinctive dice for the discerning gamer

Charlie Brumfield was an old-school Dungeons and Dragons player looking for a gift for some of his gaming buddies when he decided to start up Artisan Dice.


After two successful Kickstarter campaigns, Charlie bought a PCNC 1100 and a PCNC 770 to start production work and begin turning his hobby into a viable business.
By combining the industrial power of a Tormach CNC milling machine with a more 'old-world craftsmanship', Artisan Dice are able to deliver shop-quality products that still retain a personal touch.
"Our first day in business [after purchasing a Tormach I built a website, put it up Sunday night, and by 6:00 AM Monday morning we had $1700 in sales. It's been rockin' and rollin' ever since."
"Tormach talks about how this is the machine for the maker in his garage, yeah, these are those machines. We broke end mills while learning, but we didn't hurt the machine. If you crash a larger machine, grab your pocketbook, it's going to be $10,000 or more. But not with a Tormach."
Charlie Brumfield

3. Artisan jewelry as a boutique CNC business

Chris Myers of Steelwerks uses his Tormach 1100 CNC mill to make customized earrings, necklaces designer wedding rings.

Chris strays away from traditional jewelry materials, like gold and silver, and focuses on cutting less traditional materials like stainless steel and titanium.



"Tormach's CNC gives me the ability to have five arms. Anything I could do, I could do manually, but it would take me a lot longer.

To manually work a product, it would take me four or five days, but with the Tormach, I can do the same in just three to four hours. It's incredibly faster."
Chris Myers

By using a Tormach CNC milling machine, Chris has been able to produce high-quality personalized pieces without breaking the bank.

A Tormach's small footprint, combined with mechanical reliability make it the perfect primary mill for any upcoming CNC machinist looking to make the switch from hobbyist to profitable business owner with minimal fuss.

4. Building fast cars with the power of CNC

Jacob Shields, an engineer at Colorado automotive experts Jacks Transmissions knows first-hand the edge a Tormach gives you over the competition.




Jacks Transmissions is a prominent name in automotive circles as they work closely to develop exactly what customers hope to achieve with the power and precision of a Tormach 1100 CNC mill.

"When we first started looking for a CNC machine, we had no budget because we're a small shop. We looked for a company that had a decent track record and came across the Tormach CNC machine range.

It looked like the machine was very capable. We watched a bunch of videos on what it could cut, and it seemed like it could cut anything we could throw at it.

The Tormach has saved us a ton of money because our supplier was going to charge us a lot more for the same part. We got it done in-house for a third of the cost."
Jacob Shields


5. CNC manufactured movie prop replicas

Jesse Hayes, the owner of Puzzlebox Entertainment uses his Tormach 1100 CNC mill to bring his passion for movies to life.




Using his Tormach PCNC 1100 mill and his 15L Slant-PRO lathe, Jesse creates movie prop replicas (like this impressive R2-D2) true to the originals.

Because Jesse's garage also doubles as his workshop, he needed a CNC mill with the power and precision of a heavy-duty workshop quality machine, but the small footprint (and power) better suited to the hobbyist with a compact workspace.

He found both in a Tormach.

"The Tormach caught my eye because of customer reviews I had found and tremendously good support. The solutions that Tormach offers with the machine were a nice plus. I knew everything was going to work together – I didn't have to piece things together from different machines."
Jesse Hayes

What can a Tormach CNC mill do for you?

It doesn't matter if you're an ambitious hobbyist keen to develop your skills, a small business owner trying to beef up a workshop, or a dedicated educator seeking inspiration for classroom projects, with a Tormach 1100M & 1100MX CNC mill, you can bring pretty much any idea you have to life.