We've seen lots of Tormach owners and users launch their ideas through Kickstarter. In that vein, here's a neat project with a Tormach connection from just a few miles down the road from our offices - the Radiant Lionhead 3D Printer:
What makes this 3D printer different? For one, with its multiple printing heads, its one of the fastest home-use FDM (Fused Deposition Modelers) out there:
But what I think is really cool is the unique approach to software. You don't need an existing solid model to print. Instead, you to build shapes using Voxel elements . It's almost like virtual Lego®, or Minecraft. According to Radiant Fabrication founder Nathan Patterson:
In developing Li, we were inspired by the simplicity of video game interfaces. You can create and edit models as if you were building a virtual Lego® creation. It's simple enough for children to grasp with tools that enable experienced users to produce models quickly. When you're done modeling, you just click Print. It's that simple.
Here's how you design: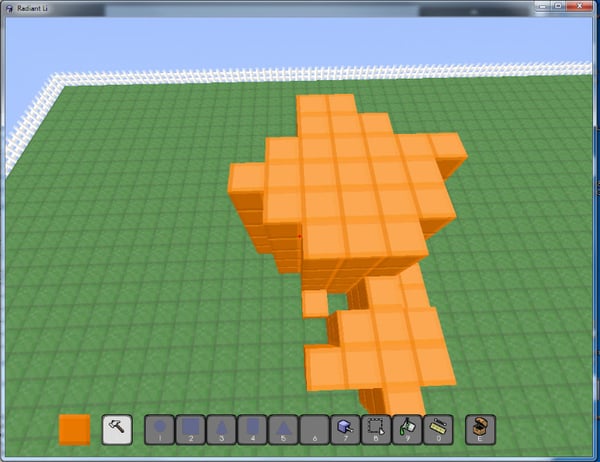 And here's what you end up with: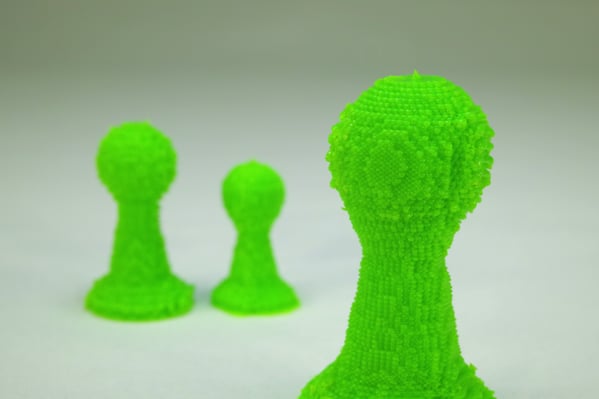 You can try out the beta software for yourself here: Download Radiant Li modeling software Once you get the hang of it, its a breeze. In fact, many of the early software tests were done at Madison, WI area hackerspace Sector 67 with grade school students. Right now, you can't export files in an IGES or STL format for CAM (as far as I can tell) but it would be a cool experiment to try and CNC machine of the models created with the software if that is ever supported. As far as the Tormach connection, the team at Radiant Fabrication uses a Tormach PCNC 1110 manufacture structural components for the first generation Lionhead printers. Nathan showed me a clever bracket design that requires just one 10mm end mill to make. Each printer requires more than a dozen of the brackets, so limiting the tool list to a single cutter allows them to make the parts with a minimum of setup time. Good Luck to Radiant Fabrication - they are currently about 50% of the way to their funding goal. See it on Kickstarter: Radiant Lionhead 3D Printer
Any other Tormach-related Kickstarter projects that you know about? Let us know