While you may have heard about the Tormach 1100MX and 770MX dropping in August, we want to take a moment to formally introduce you to the newest update to our flagship mills.
There are a lot of things that have changed since the Series 3 machines with the introduction of the M. But, if you're looking for a little more giddy'up than the standard M, the MX has arrived.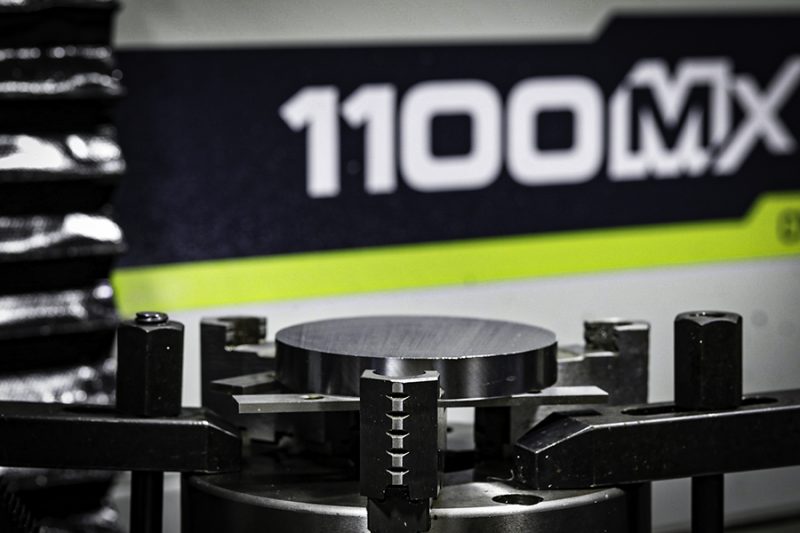 What's Inside the MX?
First, the BT30 spindle on the MX gives us the chance to push the machine a bit harder, going up to 10,000 RPM. BT30 is an industry-standard taper, which means you can easily share tools with other machines in your shop (which really helps if you're using your Tormach mill for secondary ops). What's more, using a tool holder with a pull-stud provides better process reliability.
Also, we've added servo motors in all axes of the machine for faster rapids. Making the Tormach MX a closed loop system allows you to really get some speed out of your machine. On the 770MX and 1100MX, the max feed rates are 230 IPM in Z, and 300 IPM in X and Y.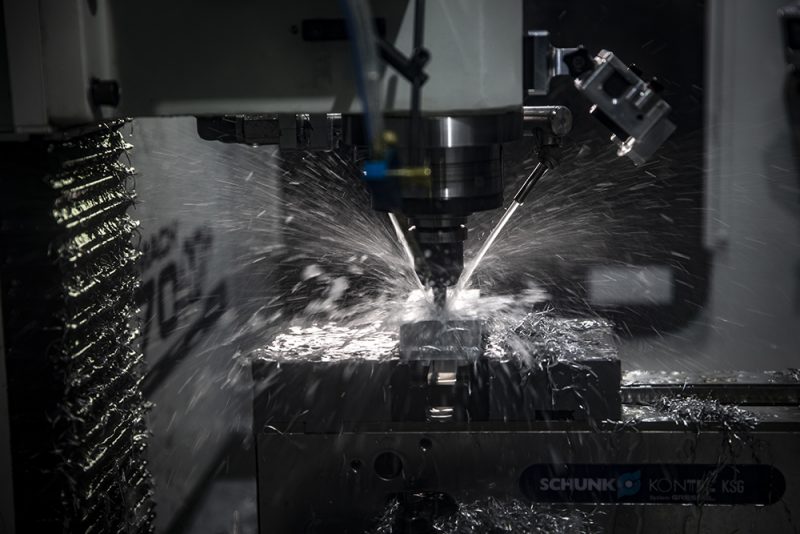 What's the Same (as the M)?
Like the M machines, the MX is compatible with a number of accessories, such as an automatic tool changer and 4th axis, bringing versatility to your machining. We sell our machines on an a la carte pricing system, so you only have to buy what you need. This also allows you to easily add accessories down the road as your machining needs change.
The casting of the MX is the same as the M machines, so you can still fit even our biggest machine (the 1100MX) into your basement, while still having the rigidity to cut stainless steel or titanium.
Other things that remain the same between the M and MX:
Tech Support - Our tech support is free and based at Tormach Headquarters, in Waunakee, WI

Upgradability - Our machines are designed to be upgradable, so you only have to buy what you need and

User Installable/Maintainable - Tormach machines are made to be serviceable by the end user. That means no need to bring out a costly technician or riggers to move, setup, or fix your machine.

Single-Phase Power Requirement - Many machine tools require industrial 3-phase power to operate. All of our machine tools run on standard houshold power, so you can put these machines just about anywhere.
The PathPilot control system is still the heart of all our machines, making the M and MX both simple to use and easy to pick up. PathPilot offers an array of premium features for free, like conversational programming, Dropbox integration, and the ability to put pictures and videos of your setup right in the G-code, with the media embed feature.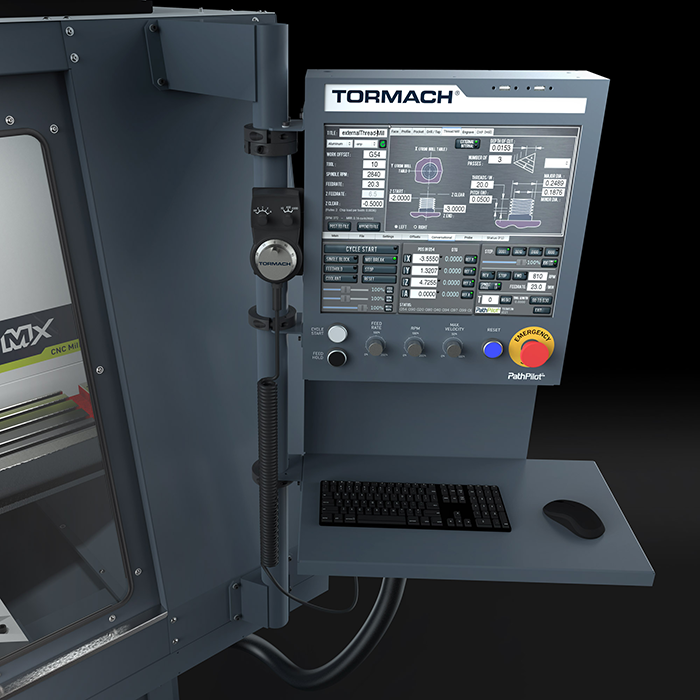 Adding an Industrial Control Console
Other than the paint job, the other obvious aesthetic change is the addition of the industrial control console as an accessory.
Our customers have been asking for a jog pendant since the Series 3 came out, but we wanted to make sure we did it right. The control console incorporates an industrial jog pendant, tactile feed override knobs, and even a machine status light - so you know if the machine is running, paused, or in reset mode from across the room.
While this may feel like just a visual accessory (to make your machine look more robust), it has some significant advantages for workflow.
Workflow perks include:
A tactile click with the pendant gives you the ability to have a better feel for where your spindle and table are when setting up.

The pendant also gives you the ability to be closer to your part as you jog around… making setup more efficient and more accurate.

Physical knobs for feed override makes it so you can adjust parameters in PathPilot without even looking at the screen. You can "feel" the machine better.

The status light makes it so you can know what the machine is up to from across the room.

While you still have access to a keyboard and mouse, the console creates a simplified interface for fine tuning adjustments.
The console is an optional accessory that costs $1795 if purchased as part of a new MX machine package, or $1995 if you pick it up some time after you buy your machine.
While that might seem a bit steep for a little added workflow efficiency, if you purchase the console with a new machine, there are a number of items that you don't need to pick up. Saving you upwards of $1200. Here's the breakdown…
PathPilot Operator Console as part of a new machine package: $1795
Items you don't need if you're buying the console:
38245 - PathPilot Controller - Next Generation = $200 discount by not needing this and buying with a mill.

38791 - Controller Arm = $325.00

35575 - Touch Screen Kit = $425.00

30615 - Standard LCD Monitor = $195.50

30616 - Jog Shuttle Controller = $89.95
With those savings, that brings the price of the console down to under $600!
The Right CNC Machine for Your Job
At the end of the day, it's all about picking the right tool for the job. The M machines have all the capabilities that Tormach has been known for, but if you need a little more juice from your mill - like if you're doing higher quantities or work with tighter tolerances - the MX is the way to go.
Ryan Warner, owner of WarnerWerks, was one of the early owners of an MX machine. He said, "What drew me to the MX machines over the M machines was actually every single one of the improvements that Tormach made."
"Most of the parts that I make are aluminum or plastic, so the 10k RPM spindle and 300 IPM rapids massively increase productivity, as well as finishing capabilities. Most of my work right now is job shop-type work, so anything that helps me get the job done faster makes a real difference. The MX machines are just so much better for someone looking to make a business with a Tormach."
Since Warner is doing job shop work, he did consider the difference between a Tormach MX machine and a larger VMC.
"I chose a Tormach machine because it's really the only option on the market with all of the features that it has for less than $50,000. It was brand new with a warranty, backed up by a great technical support team, and so many clever users… I can also plug it into an outlet in my shop without having to deal with the hassle of 3-phase power."
"I could have bought a more robust used machine, but then I would have to worry about more complex setup, servicing the machine, and higher repair costs."
Warner has already been making all kinds of chips with his 1100MX, and it's helped his business really get humming along. "I really can't choose a favorite feature! All of the upgrades that Tormach made over the M machines have turned the little mill into a machine that I can trust to make parts quickly, and accurately while I take care of other tasks in my shop."