The roots of Tormach are in 3-axis milling machines. In fact our first machine was the PCNC 1100, but over the years we've expanded our offerings to include an array of different metal working machines, like the 15L Slant-PRO Lathe, 24R Router, the PSG 612 Grinder, and the recently released, 1300PL Plasma Table.
Now, we're returning to turning! Introducing the 8L Lathe, which provides a new opportunity for lathe work in the world of Tormach.
8L Lathe Specs
Like all of our other machine tools, the 8L runs on standard single-phase household power. Specifically, it runs on 115 Vac, 50/60 Hz, and a 15 A breaker, which is the same as all of our smaller mills.
The 8L is unique, not just among other Tormach machines, but also in the general machine tool market, because it offers a 1.5 HP (1.11 kW) spindle that runs at 180-5000 RPM. It already comes with the machine in a fully assembled enclosure as part of the base model, but the footprint remains small, ringing in at 26 in. x 50 in, and the lathe itself is attached to a hand scraped 140 pound cast base.
With a 5C spindle, the 8L can accommodate parts up to 1 in. or use a 3- or 4-jaw chuck, providing a swing of up to 8 in. And, the stepper motors on the X and Z axes provide a feed rate of 150 IPM (3.8 m/min).
Travels on the 8L are quite impressive for its compact size! The maximum workpiece length is 10" with the tailstock. The X-axis travel is 4.5 in., so you can accommodate a part that fully utilizes the 8 in. swing.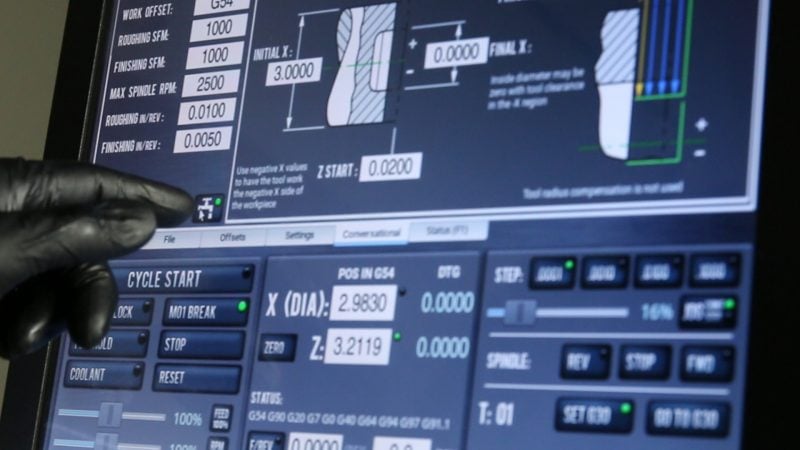 It Still Runs on PathPilot
Like all of our CNC machines, the 8L lathe will be controlled by the PathPilot system. That means you can use intuitive conversational lathe programming, do rigid tapping, and leverage built-in Dropbox™ support for transferring programs.
PathPilot has been known to be incredibly powerful for both beginner CNC'ers, as well as veteran machinists. Lathe parts are often deceivingly difficult. While you're only working with two axes (unlike a mill, where it's three or four), turning can be surprisingly tricky. The lathe interface of PathPilot makes creating turned parts easier by using straightforward buttons and controls, simplifying the whole process.
Who Needs an 8L?
This lathe ticks a lot of boxes, and has the ability to fill needs in a variety of spaces!
The 8L's 10 in. of travel in the Z-axis, as well as the through bore spindle, make it incredibly useful. This allows gunsmiths to work on barrels for pistols and small firearms that previously would require a much larger turning center.
Most turned parts are not terribly large, which means that the 5C headstock accommodates the needs of most lathe users. But, if you need to turn a larger piece, you can add a 3- or 4-jaw chuck and cut stock that is up to 8 in. in diameter.
The 8L is rigid enough to cut anything, whether you're turning wood or stainless steel, this little machine can handle it, and at an approachable price point.
Starting at $6,995 you can get the basics and for $9,455 you can get a deluxe package, but what's more is that you can get the 8L lathe with all the bells and whistles available right now for $10,735!
Round out the capabilities of your shop today, and add a little turning!