Stone Hendrickson started making things at an early age. His uncle got him into archery at around 10- or 11-years old, and his interest in manufacturing spawned very quickly.
For archery competitions, they use pins to hold up their target faces, but these pins aren't designed for comfort or style. In fact, they can hurt your hand while pushing them into the dense target material. That's why Hendrickson took to making something that is easier to use, and as an extra perk, something that is customizable with a team or company logo.
"I make these target pins that hold your target up. In all the tournaments, we get these target pins that are cheap… they're basically like nails, and when you push them into the target they hurt your fingers," he explains. "My design has chamfers and creates more surface area that you can push down on, so they don't hurt your fingers."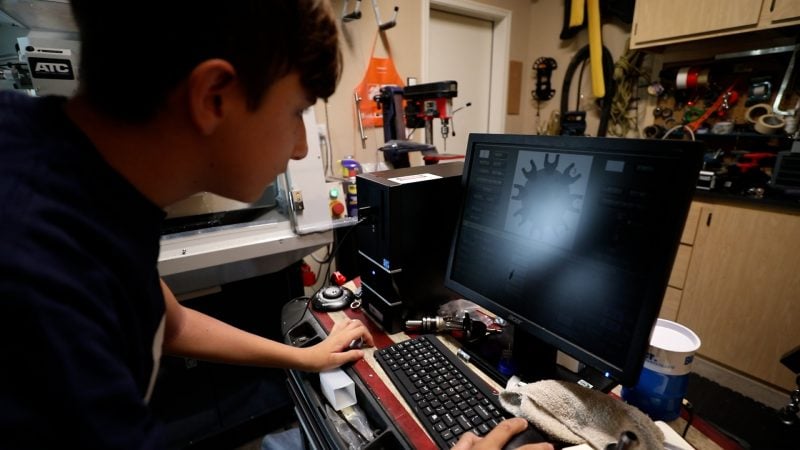 A Teen Builds a Manufacturing Business
Hendrickson saw an opportunity in the archery space, so he took to designing his version of the target pins quickly. Now, he operates stuckUP archery pins with a small army of 3D printers. With the proceeds from the business, he decided to up his manufacturing game with a CNC machine.
"I always made knife parts and my target pins with 3D printers. Unfortunately, I can only do plastic on those, so now, with my PCNC 440, I'm going to start being able to make metal parts of the same nature. Because, who wants plastic [knife] scales?"
Since starting stuckUP archery pins, Hendrickson has been interested in the various ways things are made. "I've always been into watching machining videos, like Titans of CNC and their academy. Just to see how CAM worked and stuff like that."
While he has a passion for competitive archery, Hendrickson is also a nerd for knives - specifically, balisong knives.
His interest in making knives drove the purchase of a belt grind, and a drill press that he found on Facebook Marketplace for $25. Obviously, these tools weren't the most robust or accurate to use, but he did make a few small knives with it. "I realized pretty quickly that I want to get tighter tolerance parts and make higher quality knives."
His push to CNC started "a few months back, when I was making a product for knives, and I needed to figure out a way to get it done without outsourcing." Because he realized that outsourcing was out of his price range, Hendrickson wanted to start making his own.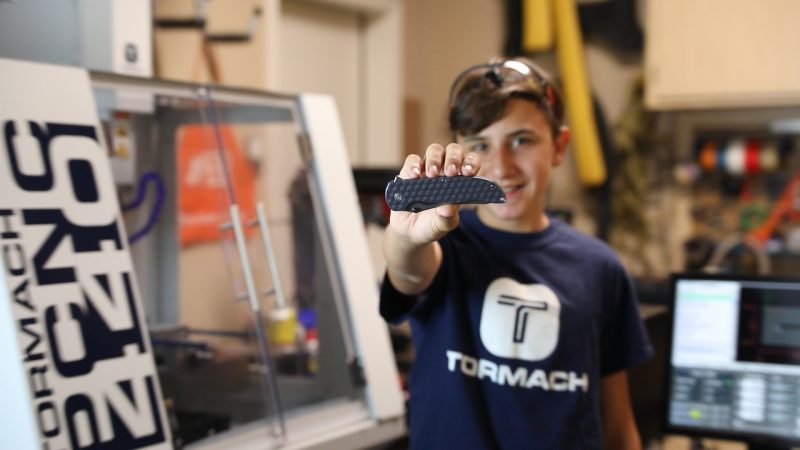 Learning CNC with Titans of CNC: Academy
Before his PCNC 440 even showed up, Hendrickson was working through various parts of the Titans of CNC Academy and learning the ins and outs of machining.
From the Titans of CNC tools from Kennametal to the poster of Titan Gilroy on his wall, Hendrickson is a religious watcher of Titans of CNC. "I'm committed to the Titans of CNC academy because it explains not just how to program, but all the other stuff that's involved with machining, like coolant management and setting up your vise," Hendrickson says.
And, it's done him well. He started making chips with his PCNC 440 almost as soon as it arrived, even though he had never touched a CNC machine before.
"I'm fifteen and learning to machine, if that says anything, then anyone else can do it."
As he continues to grow his business, Hendrickson plans to continue making knife and archery parts and components. "I picked Tormach because of how affordable their machines are, how much the 440 can do - it's pretty amazing how it's so small, but it can do a lot," he explains. "Now I can make stuff out of metal, because I have my Tormach 440. If I can make stuff out of metal on a machine that's affordable to buy… I mean, why not get one?"
Stone is already looking toward purchasing an 1100MX, once his business grows enough to necessitate a larger machine. For now, we're looking forward to seeing all the cool stuff he'll be doing with his PCNC 440!