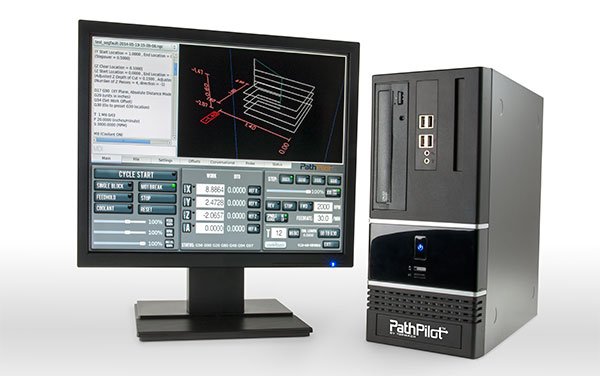 Today, we are announcing the pre-release of PathPilot™, our next generation machine controller for the entire Tormach CNC product line. PathPilot is an entirely new control architecture developed specifically for our products by the Tormach engineering group. It is compatible with all previous hardware generations of PCNC mills. It will provide a significant step advancement over our previous Windows-based Mach3 controller in performance, ease-of-use, and reliability. In the very near future we will begin shipping PathPilot as the standard control option for the PCNC 1100 mill, PCNC 770 mill, and 15L Slant-PRO lathe. For existing PCNC 1100 or PCNC 770 owners that are eager to try out PathPilot for themselves, we are launching a public beta test of the software, beginning this week.
Cool...Tell me more!
PathPilot is a universal machine controller for Tormach CNC mills and CNC Lathes. Its roots are in public domain software first developed by NIST (National Institute of Standard and Technology) in 1989. That software has evolved through a variety of projects over the years, notably EMC2, LinuxCNC, and most recently MachineKit. Our own development work began in earnest 4 years ago. During that time, we've made substantial improvements to the underlying source code to make PathPilot a viable commercial product. These include a revamped trajectory planner, improvements to the G-Code interpreter, a new operator interface, onboard conversational programming, and a host of other enhancements. PathPilot, however, is not just software. It is also new dedicated hardware "inside the box" designed specifically for motion control, along with complete documentation, and end-user support. Unlike our previous generation controller, PathPilot is a fully integrated and purpose-designed CNC motion control platform for Tormach products. The first commercialization of our efforts was the Tormach 15L Slant-PRO controller (essentially, PathPilot in its CNC lathe configuration) which we released in 2014. That experience has been overwhelmingly positive, both in how it has been received by customers and how it has reduced nagging controller related technical support issues. We are confident that the roll out of PathPilot to the larger Tormach PCNC community will be similarly positive. Attend a PathPilot Webinar - If you'd like to learn more, we encourage you to attend one of several webinars on PathPilot. The first one is this Thursday, Feb 19. Click here to Register
Beta testing…What about the bugs?
Truth be told, we've been secretly beta testing PathPilot since last summer at a number of customer sites. The majority of the early beta testers love what they see and have no intention to ever return to the previous control architecture. At this point, we're not completely done with the instruction manual so we're not ready for a general release, but with the overwhelming positive response from our initial beta test group we've decided to open it up to a general public beta program. If you choose to participate you'll be working with well-tested software and a draft version of the manual. You may still find a few bugs in the software, but those are getting to be few and far between.
Sounds Great… How do I get it?
If you want to participate in the beta program there are 2 ways to get running with PathPilot.
For those who have purchased a Tormach Machine Controller since around August 2014, you'll simply need a software update, as you have already have the PathPilot hardware inside your controller. To confirm this, look on the back of your Tormach Machine Controller for a port with a label over it marked "Reserved for future use". Due to the very large size of the software update, this must be done via a DVD boot disc that we will deliver to any PCNC owner that requests one (free Edit 2/18 - We are charging a modest shipping and handling fee ).
If you have an older Tormach Machine Controller your ability to participate in this beta will depend on the age of your controller. Some of our oldest controllers are not upgradeable and will require the purchase of a new PathPilot Controller. Those will be available when the final product is formally released. For most, depending on which controller you have, you'll need one of two PathPilot Upgrade Kits. To determine which kit you will need requires you to open the case and add a circuit board to your Tormach controller.
Click here to get started with PathPilot
Should you delay your new machine purchase until the official PathPilot release?
Not at all. Until we do a formal release machines will be shipped with our standard Mach3 control system preinstalled. However, if you want to get started with PathPilot right off the bat, we will be sending a PathPilot Beta Boot Disc along with your new machine system. This means if you order before our official PathPilot roll out you will get both control systems. We believe our existing standard control is best in class for Mach3 type controllers, but PathPilot is even better. We think most of your will as well. For additional details, check out our PathPilot Beta FAQ pages.