This coming September the PCNC 440 turns six years old!
A lot has changed at Tormach since the launch of our (second) smallest mill - the xsTECH takes the title for smallest, but that machine is technically a router.
Why a PCNC 440
Before September of 2015, Tormach had just four machines, the PCNC 1100, the PCNC 770, the 15L Slant-PRO lathe, and the PSG 612 grinder. So, why did we decide to create the PCNC 440?
We had seen a lot of folks building businesses and expanding their CNC knowledge with our PCNC 1100, and the PCNC 770 was great for folks who just didn't quite have the space for the larger mill or wanted a higher RPM spindle.
The PCNC 440's inception was focused on hobbyists and educators. Folks who wanted to make parts but didn't have a lot of space or budget to start making chips. The design was small, and depending on accessories, most machines clocked in at under $10k.
The smaller design was great for educators because they could suddenly fit several real machines (something that could cut aluminum and steel) into their classroom - giving more students hands-on access to real CNC.
WhAt We Didn't Expect
While we saw lots of hobbyists picking up PCNC 440s for their garage shops and schools outfitting shop classes, a group of folks started taking interest in the machine's small design and budget-friendly price tag. Entrepreneurs.
Now, Tormach machines have often been a favorite of budding entrepreneurs because they don't need a lot of capital to get started. They can start making parts faster and pay off their machine(s) faster with a Tormach in the shop/garage/basement.
But, the PCNC 440 brought in a new group of entrepreneurs - those who always thought space and/or cost of a machine would always limit their ability to start a CNC business. Now, many of those entrepreneurs are seeing success with their PCNC 440s.
Like Frank Grissom, who used his PCNC 440 to start up a knife-making business.
Or high school student, Stone Hendrickson, who started his business with 3D printers, but has expanded with his 440 mill.
Always Improving
Since its launch, the PCNC 440 has found its way into a lot of different shops and workspaces, but what's more is that we've continued to make it better.
These days, you can get a PCNC 440 equipped with a power drawbar, automatic tool changer, and even use the microARC 4 as a 4th axis. There have also been a number of PathPilot updates since the 440's initial launch, because our control system is always improving and always included...and updates are always FREE!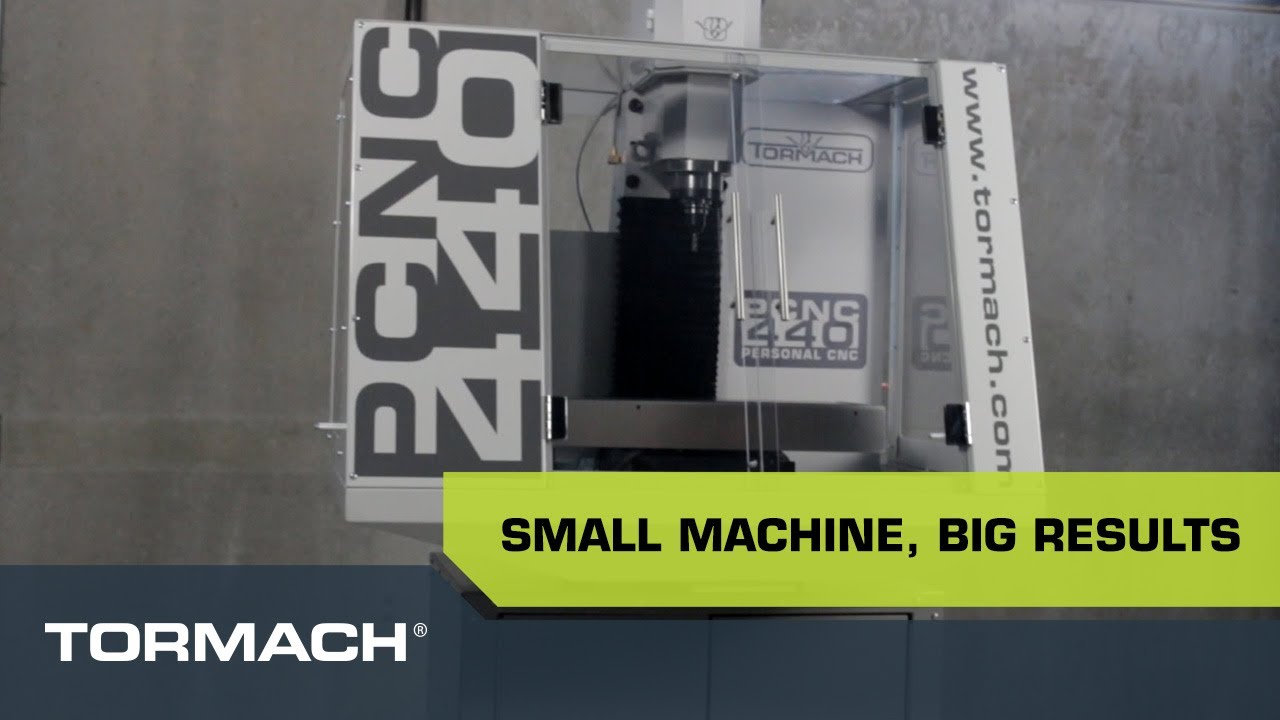 While the PCNC 440 may be small, it is mighty. The machine's small stature actually helps make it more robust, which means rigidity, even though the machine only weighs about 600 lbs. As we move toward our smallest mill's 6th birthday, they are back in stock, and we're excited to see more entrepreneurs, educators, and hobbyists start making chips.