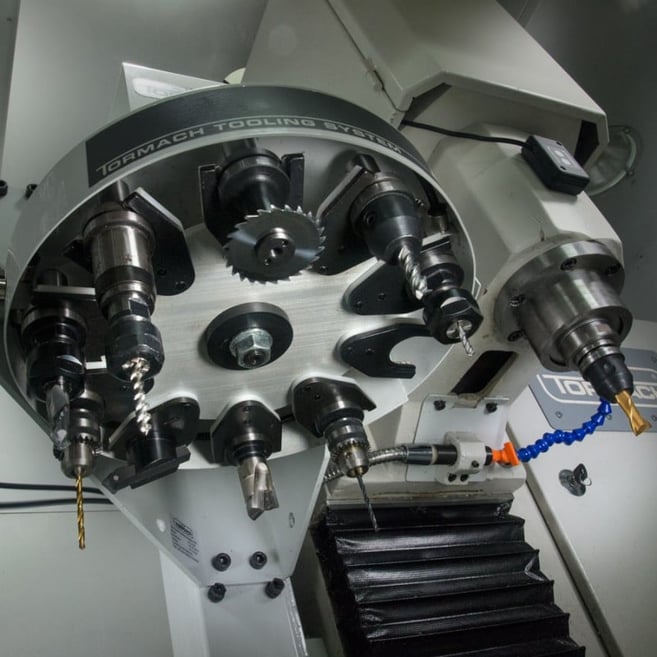 The Tormach Tooling System (TTS) was developed as an affordable, quick-change solution for small milling machines. Many machine tool companies have proprietary tooling lines that can cost upwards of four to six thousand dollars (beyond the machine purchase) – this has long been considered a significant barrier to truly affordable CNC tools.
The Tormach Tooling System is important because it provides Tormach users (as well as users of Bridgeport mills and clones) with quick-change precision, reduced clearance, and offline tool measurement at an affordable price.
Thought-Out Design
The TTS design has an undercut shoulder, so the tool contacts the spindle face rather than the end of the collet. This design also makes the collet simultaneously squeeze the shank and move upward into the taper, which pulls the TTS holder tightly against the spindle face.
The high pressure contact between the shoulder of the toolholder and the spindle is the equivalent of a zero tolerance fit – the vertical location of the tool is exact – providing radial and axial spindle contact. These two points of contact provide a wider base and give the toolholder a more rigid connection to the machine spindle. Having this snug fit improves tool holder stiffness.
This animation shows how TTS keeps your tools in the spindle.
[youtube]Kt8ueNzUEBA[/youtube]
Steep taper tools, like BT30 and CAT, need a tool presetter for proper calibration and the Z-height is affected by draw bar torque and spindle wear. TTS tools have a shallow taper and dual contact geometry, which alleviates many of these issues.
All About Options
Tormach carries an array of tools that are already part of the Tormach Tooling System – everything from a rotary broach to tapping heads to standard cutting tools. We also offer a Machineable Blank that can be used to make an array of custom toolholders while easily fitting the same collet system as the rest of your tools.
As Tormach's line of tooling options continues to expand, the affordable universality of TTS will continue to be one of the pillars in Tormach design.