One thing that we are always focused on here at Tormach is continuous improvement. That's why the majority of our staff are engineers and machinists, why we make our machines upgradeable, and why we are always looking for new ways to make manufacturing more approachable.
That being said, we've released all kinds of new machine tools in the last year, like the AF50 Autofeed Bandsaw, the 1100MX and 770MX CNC mills, and the shiny new 24R CNC Router.
If you are a regular to Tormach.com, you may have noticed a change recently. We've done some major remodeling!
We are excited to be rolling out a brand-new e-commerce experience for you, our valued customer. This new website features:
A New Machine Builder

Easy-to-Use Filtering for Tooling & Accessories

Build and Save Projects in Your Account

Streamlined Process for Quoting & Ordering

Review Your Quotes & Orders

Build Your Wishlist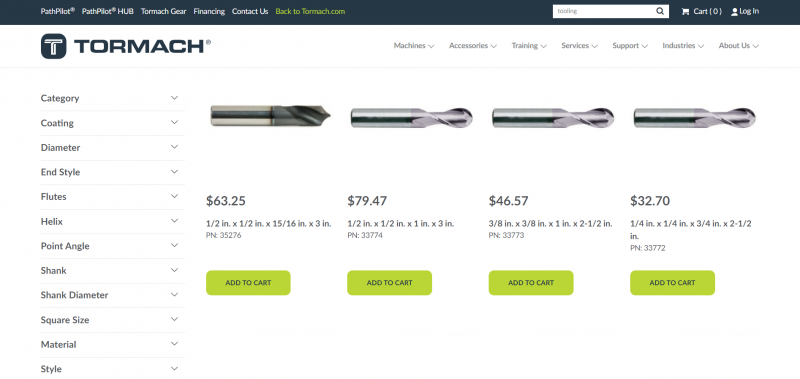 We're really excited about the new machine builder and filtering options. This new system is designed to make it easier to not only find exactly what you need - whether that is a specific accessory or a set of end mills - but also streamline the process of finding related components.
If you're purchased from us in the past, don't worry, your customer account information has been safely migrated to this new e-commerce system. Out of respect for user account security, your password data has not been migrated to the new system. That means that when you first visit our new e-commerce experience, we recommend that you set a new password for your Tormach account. To do this, simply use the same email and click the forgot password option.
Or you may do so by going here.
You may set a password of your choice for your account on this new platform. It can be a brand new password or the same password you were using on our previous e-commerce system.
Future Enhancements
And there are more changes still in the works! You will soon be able to filter by machine compatibility, tooling manufacturer (ex. YG-1) and more!
We are excited to bring you the future of Tormach - it's faster and easier to use! Go take a drive, and see it live!