People that know Tormach know us as a CNC machine tool company. Our 1100 mill has been the flagship machine for our company for more than a decade, but we have recently made our way into the world of fabrication with our AF50 Autofeed Bandsaw.
Automatic bandsaws aren't cheap. In fact, most cost more than a larger Tormach CNC mill!
That's why we set out to develop an automatic bandsaw… in hopes of finding a way to help metalworkers and fabricators make cutting stock more efficient without destroying the budgets.
So, What Makes a Bandsaw Automatic?
We've all seen a bandsaw operate. The blade circles around two wheels, and it methodically cuts through whatever material you've put in the clamping system using gravity to drop to a stopping point. Then, you have to raise the blade, move your stock, and let it drop again.
Automation makes this whole process much easier.
First is the raising of the saw itself. The AF50 uses a pneumatic cylinder to raise the saw system, every time you're ready for a new part. That means less bending over and lifting the saw blade, which will not only save you time, but also your back.
Also, the AF50 features an automatic feed system (that's where the AF in AF50 comes from). Basically, you can set a given length for your parts, dial in how many you want to cut, and let the hydraulic feed control do the rest of the work.
This means you no longer have to babysit your saw, or in a larger shop, you don't need to pay somebody to stand there and cut stock. This also gives you flexibility to change the stock size, if needed, or to have stock on hand for a quick rush job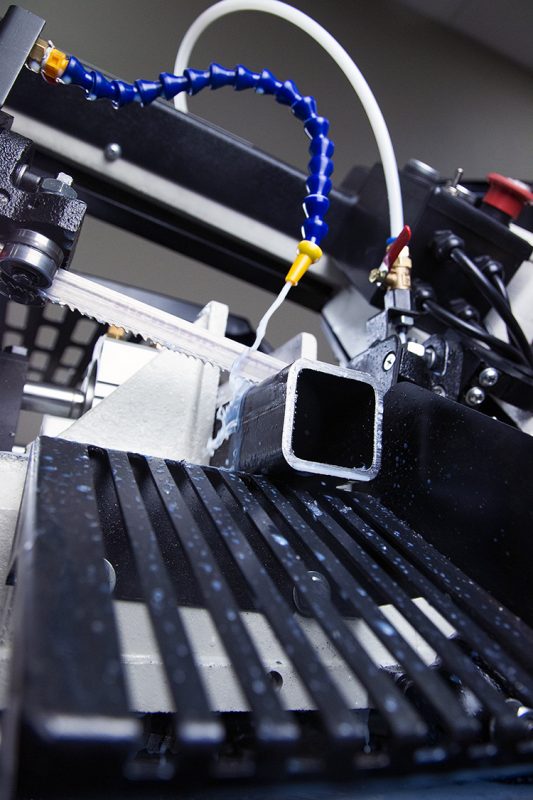 AF50 Automatic Bandsaw Specs You Really Need
Like all of Tormach's other machine tools, the AF50 operates on single-phase power (115 Vac), so it's easy to find a place to plug it in. It also requires connection to 90-120 PSI, for the automation part of the saw.
The capacity is an impressive 7 in. round or 6 in. x 8 in. flat stock. That means you can cut some pretty beefy chunks of material. And it can handle anything from softer metals, like brass and aluminum to the harder stuff, like stainless.
Here are a few other specs:
Blade Size: 93 in. x 0.75 in. x 0.035 in.

Blade Speeds: 135-161-226-394 FPM (@ 60 hz)

Integrated Coolant System - Coolant Recycling System

Blade Tensioning System

Adjustable Clamping Pressure (Soft Squeeze)
And the saw's programmable automatic workpiece positioning system…
Cuts lengths between 0.157 in. - 50 in.

Up to 10 in. per stroke

Maximum 5 strokes per part

Maximum 999 parts per program

Features a part countdown display
Getting Economical with an Automatic Bandsaw
Again, automatic bandsaws aren't the most budget-friendly tools in a shop. In fact, they typically start out at upwards of $30k-$35k.
That price tag is what has kept a lot of small- to mid-sized shops from going automatic with the stock cutting. Until now!
With the AF50 Autofeed Bandsaw, you can automate your stock cutting process for less that $6k!
Real-World Results Using an Automatic Bandsaw
Wade Wendorf, who already owned a Tormach PCNC 770, got really busy in his shop, and quickly realized a need to automate his stock cutting process. "We were cutting a lot of stock with a regular bandsaw. I specifically wanted more automation, so that's why I tried out the AF50. And I'm very glad I did."
Wendorf cuts anywhere from 4" to 20" lengths of material. His quantities vary from six parts to 60, but he uses the AF50 controller to tweak those numbers as needed on the fly. "I cut mostly 6061-T6 and other varieties of aluminum, but I have done a bit of steel as well," he explains.
"Bending over a regular saw to cut who knows how many chunks of material was a real back killer," he continues. "The AF50 fit into the space I was willing to give up, and also the value for the dollar. There's nothing else even close in price with as small of a footprint."
Wendorf has saved both time and money with the AF50 bandsaw. "It's awesome putting a 12' bar in, and walking away. The repeatability is fantastic!"
The AF50 Autofeed Bandsaw is the next step in making any shop more efficient. And a more efficient shop is a more profitable shop